For most divers, their ultimate dive trip is to visit Chuuk Lagoon to dive the wrecks sunk in World War 2 during Operation Hailstone. Chuuk has never been an easy place to get to from Australia, but it is at least now (2011) a bit esaier than in the 1990s. You travel via Cairns and Guam. The wrecks are the best around that are accessible, you will not see better, no matter where else you go.

For Australians, the best way to get to Chuuk is as follows. First, fly to Cairns from your home City. You will almost certainly be advised by the dive travel organiser to book your own flight as they cannot offer as cheap flights as you can get from the internet. Unfortunately, Continental (now part of United Airlines) does not have an agreement with Qantas or Virgin Blue for combined airfares from your home City. As mentioned, scan the internet regularly and you should be able to get a cheap flight to and from Cairns. Book whatever you can when you can (we booked up first and then two months later the return leg). We paid about $160 up and $140 back in September 2004 and $149 up and $159 back in September 2005. As it turned out, in 2004 we could have got both flights for $140 if we had waited till we booked the return flight. Even in 2011 the cost is not much more, we paid under $160 each way on Qantas.

Make sure you leave a good amount of time on the way up in case your plane is delayed. Best bet is to arrive in Cairns about 1 pm at the latest and spend the afternoon and early evening there. On return, I recommend a few days in Cairns to sightsee, dive or whitewater raft.

If you fly JetStar, beware that the baggage limits means that you will certainly have to pay excess baggage if you have more and lose the advantage you gained by getting a cheap airfare. You can purchase 25 kg at a reasonable price when booking. Use Qantas if possible as the baggage limit is 23 kg and whats more, you can book your bag straight through to Chuuk (you will need to insist on this as many times they say it cannot be done - in 2011 it was still possible). You cannot do this with Virgin Blue. Virgin Blue has a nominal 20 kg limit with their standard included luggage fare but in reality I have never been charged excess, even when carrying a lot more.

From Cairns, Continental (formerly called Continental Micronesia) flies to Guam twice a week using a Boeing 737. The flight leaves Cairns at 12.30 am in the morning. It leaves Cairns on Friday and Monday mornings. This means flying to Cairns on Thursday or Sunday and then leaving very late Thursday and Sunday (in fact Friday or Monday morning). You arrive in Guam at about 4.30 am. Once in Guam, you will need to go through US Customs, even though you are not staying in Guam. This could be onerous, especially since new procedures have been implemented in the US (as it is a US Territory).

You used to be able take at 32 kg as baggage but they have now implemented very strict weight rules. No bag can be over 23 kg and you can only take two bags, the cost for the second one is $40, no matter the weight. If you have more than 23 kg in your bag (up to 32 kg), the cost is $200 no matter the weight. It seems the unions have set a limit of 23 kg. Note that I had just over 23 kg and did not incur any additional fee.

What you can do however is take gear in your hand luggage. You can take a bag with a total dimension of 114 cm with no limit on weight. You can also take a "personal item" like a laptop bag. Fill the larger bag with heavy gear like regs and camera and the laptop bag with computer, dive computer, chargers etc.

Continental Airlines has to be one of the worse airlines that I have ever used. I have done 24 flights with them over the past 25 years, all of the planes have been older ones in general, with poor video equipment (if any) and the worst food (without a doubt) that I have ever been served on an airplane. The meals are simply crap. Make sure you eat before you get on the plane, the value is about $0.20 I reckon. Even the drinks given (only soft) are served in the smallest cups. There is no free alcohol (US$7 a beer I think). I have got about three hours sleep on this flight.

Once in Guam, you will have a wait of about four hours. On some days nothing is open when you first arrive so try to get a nap near your air bridge (on the floor, the seats have dividers so cannot lie along the length). Later, some shops will open and you can get breakfast (although you will need US dollars) and even this food is pretty crap. You can withdraw US dollars from an ATM that is located near the shops. This is a very good way to get some money for Chuuk as there is no ATM working there (there was one but it was dead for the period 2004 to 2005 at least and in 2011 it was totally removed).

About 9 am the flight leaves Guam for the 90 minute run to Chuuk. This is also in a Boeing 737. You get a soft drink and a snack on these flights, again crap. You will arrive in Chuuk about 10:30 am and by the time you clear Customs, it will be about 11:30 am. Off to the hotel and time to unpack. You can do a single dive late in the afternoon. If you are not too tired, give it a go.

GETTING HOME

For those from Australia, the return flight from Guam leaves at about 6.50 pm on Sunday and Thursday. For the Sunday flight, you have to leave Chuuk on Saturday afternoon and stay overnight in Guam. The flight from Chuuk leaves about 2:30 pm. While Guam is not too bad (a mini-Honolulu), if you want to maximise your days away from Australia in Chuuk, work out your trip backwards from one of the other return flights. If you stay in Guam, there is plenty to do. Saturday nights can be spent sightseeing on the local buses, eating dinner or for some, visiting the entertainment (do not ask what!).

Sundays you can laze around the pool, go to the beach or travel to Two Lovers Point for some fantastic views of the city. You can even fire a handgun at one of the dozens of gun galleries. Guam is a totally different place! See my Guam pages for more information.

The accommodation options while visiting Chuuk are quite varied. If you can only afford a short period of time and have the money, the liveaboards are the way to go. The SS Thorfinn is very popular with Australians and I can recommend it as a great way to dive Chuuk. The ship is big, with plenty of room for lounging about between dives. The food was great and drinks quite reasonably priced and the rear deck spa relaxing, but I have heard the food is not as good now. However, a drawback of this is that you can only dive one deep wreck a day (for obvious reasons) so although you might get a lot of dives done, you will not see as many wrecks.

Mostly used by Americans although some Australians do use it.

Truk Aggressor II

Appears to no longer be in Chuuk.

Truk Odyssey

This appears to be very upmarket and only used by Americans. Out of my league.

General Liveaboard Comments

In September 2004 when I visited, none of the liveaboards operated more than a couple of days out of the 14 days we were there. It appeared that they did not have much work. This could represent a problem if you book on and are not part of a group. A number of other liveaboards have been known to cancel trips at the last moment for this sort of reason. Be wary when bookin, check out their policy on this. In 2011 both boats were operating fully.

The main difference between the Thorfinn and the Odyssey move around the lagoon, anchoring over each wreck, the Thorfinn generally stays in the one spot. While this would seem to favour this boat, it is not as clear-cut as you would imagine.

The Thorfinn's advantage is that it offers two separate dives five times a day. This means that it cannot anchor over a wreck as the other dive would need to travel further. The advantages are that less experienced divers (or those who only want to dive shallow) can do this while others can dive deeper. It also means that a smaller number of divers are on a wreck at any one time. The Odyssey's advantage is that you step off the rear deck straight onto the wreck. They tend to do a number of dives in a row on the same wreck (except perhaps the first deeper dive of the day). Also, on these ships you will be more limited by the lowest common denominator or the vocal majority or minority. However, they do have a smaller boat that they will take people to another site if the one they are moored on is not suitable. If you want to dive a wreck, you will have to abide by the majority. This then means you end up being like the Thorfinn.

If you opt for staying on Weno (Moen) Island, the main island in Chuuk Lagoon, there are now really only two places to stay.

Blue Lagoon Resort - formerly Truk Continental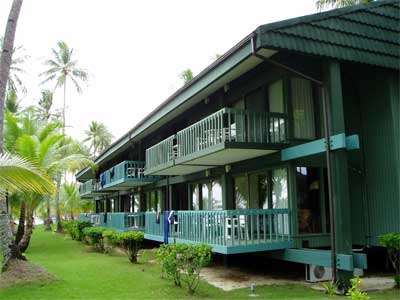 Accommodation at Blue Lagoon Resort
The Blue Lagoon Resort was formerly known as the Truk Continental Hotel. Located at the southern end of the island, it is a bit isolated from the main town area and therefore it was harder to go to other restaurants or to the shops. However, see my later comments about this (there are now basically no restaurants to go to). On my November 1997 trip there were quite a number of problems encountered with this hotel. In 2004 I visited again and did not stay at this hotel for a number of reasons. The main one was the fact that the hotel and diving was far more expensive than the Truk Stop and they did not offer the same discount as Truk Stop for our large group. However, I stayed here in 2005 and 2011.
The Resort has the best outlook and grounds of any of the hotels in Chuuk. The coconut trees, grassed lawns and small beach make it an ideallic looking place. It also has its own wharves where the dive boats operate from. It now appears to use its own power generator 100% of the day and night. This is good as the power on Weno seems to go out at least once a day - very important if you need to charge torches, camera batteries, etc. As of 2011 it has improved dramatically from our previous stay here.
In November 2011 the accommodation was clean, the showers good (in 1997 they were atrocious), and the general management far better. The rooms have two double (king mostly) beds (some have three singles I believe), air conditioning, large bathroom and balconies. Even though the resort is large, you do not end up too far from the dive shop and/or wharf. When we were there in 2011, the place was pretty full, perhaps running at over 80% capacity.
Even if you stay at Truk Stop, I would recommend going to Blue Lagoon a few times. Our idea in 2004 was to go there in the evening about 6 pm and have a few drinks before having dinner in the restaurant. Take your own drinks and sit in the grounds, watching the sunset. Fantastic! The Truk Stop will take you down in their minibus and the Blue Lagoon will take you back (there is also a similar but opposite arrangement to take people to Truk Stop). Note that while the garden bar was open each night we visited in 2004, 2005 and 2011, in 1997 it only opened on one night of the 18 we were there!
Truk Stop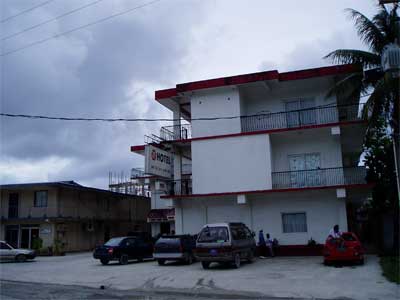 Truk Stop from the street

Just on the southern edge of the main "town" is the Truk Stop. This has been expanded greatly since we first saw it in February 1994 and is now quite large. I stayed here in 2004. The rooms are not too bad and there is a better restaurant than most other places. The facilities are getting better, with wet area and diving lockers. It has its own wharf and while the setting is not as nice as the Continental, the location is better.

The rooms have TV, air conditioning, fridges and are quite large. Its advantages include been closer to town so that you can buy ingredients to make lunch and breakfast (saving a fair bit) as well as beer at a far cheaper price than the bars (see later). There are no nice grounds, but the wharf is a very nice place for pre-dinner drinks, watching the sunset. The bar here is very average.

It has its own back up generator (very much needed as the island power seems to go out at least once or twice a day). However, I found the management also a little out of touch (eg they tried to charge me for oxygen when I was ill, even though they ended up getting money from me for 13 unused dives).

Other Accommodation

On my second visit in February 1994 I stayed at the Island Motel which is a bit further out of town than the Truk Stop.

The Island Motel then was simple but still had air-conditioning, cable TV, a fridge, comfortable beds and was clean and tidy. However, in November 1997 and September 2004 we looked at it and it did not appear that there had been any maintenance done in the preceding 10 years. The bathrooms were mouldy and it did not appear to be well looked after. One report had that it ran out of water and that it suffered from power blackouts as it did not have a generator.

The Chuuk Star Hotel was the newest and best hotel in Chuuk in 1997. Located near the airport its rooms were extremely nice, well equipped with air conditioning, fridges, TV etc and the management seem very keen to meet the needs of the guests. We had lunch there twice on non-diving days and the manager went out of his way to see that we were enjoying our meal. Compare that to the Truk Continental where we never met the manager in 17 nights!

In addition, the restaurant was better in terms of quality, quantity, price, service and consistency. However, in September 2004 it was abandoned and seemed to be occupied by squatters. What happened?? In 2011 it appears open again, but I have no more information.

There are other small motels that cater mainly for locals. I can offer no advice about these.

Blue Lagoon Resort

The food in the restaurant in 1997 was not of a high quality and in fact, was sometimes outright inedible. After our meal there the first night we did not eat there again for seven nights! On my previous trips (1991 and 1994) the food was far better. In September 2004 the food was far better but the service in the restaurant totally uneven. For example, one night we finished our meal in just over an hour while the next time we visited it took almost two and a half hours. In September 2005 the food was still the same (average) but the service better.

In 2011 the food was very good. There is a very large menu, with dozens of meals available. The portion size is large, it was tasty and I do not think anyone in our group of 16 had a bad meal over the 17 nights were were there.

While in 1997 and 2004 the prices charged for food exceeded the quality provided (I can put up with average food if the price is appropriately low) and the bar prices were too much. Also, the beer was not always cold and every night you seemed to have to drink a different type as they had not bothered to restock the bar. If you can, take beer and wine in a cooler to the restaurant. They do not appear to object to this, but this may not always be the case.

In 2011 the prices were very cheap. Average lunch prices were US$8 to $10 and dinner was not much more. We never needed to eat entree and main meal, the main was large enough. Very good value. The drinks are a bit expensive by comparision, due to a 50% tax. Better to purchase your own beers and spirits in town on the way from the airport, cartons of Asahi Super Dry (an excellent Japanese beer) were only US$34 and gin US$6 a small bottle.

Takarajima Japanese Restaurant

Just outside the Blue Lagoon Resort is the Takarajima Restaurant. This is supposedly Japanese, but it is really a mixture of everything. Again, nothing special, but not too bad. The service here had certainly improved in 1997 since my previous visit in 1994 but in 2004 we did not visit and in 2011 I am not even sure if it ever opens. One thing, do not fried order rice as a separate dish, the US$6 charge is a bit steep. For US$13 you can get a good meal and a couple of soft drinks. Once again, it is too expensive for beers (A$5) and the food is not really up to the price. Try the ginger pork, it is quite good. Better than the Blue Lagoon in 1997! Note prices are 1997.

Truk Stop

In 1997 our first meal here was quite good so we booked again for the next night. The second meal was awful. Cold, people getting meals as others finished theirs and many things were not available. Despite this, it was better value than the Continental. We went back again a couple of times and the meals were better but still there were problems with consistency and some things not available. Beer was often served warm and despite many reminders, they still brought out the next one warm.

In September 2004 we stayed here and ate in the restaurant a majority of nights. The food was far better, with more consistency and some excellent steaks, fish and excellent pizzas. The "sea cucumbers" (really huge crepes filled with ice cream and smothered in chocolate sauce) are fantastic. You only need one for two people. Has a better range of meals than other places. For the last night, we purchased a lot of take away pizzas and ate them with the dive staff on the wharf with many beers and other duty free drinks. Lunches were also not too bad and well priced. Food overall back then was similar or cheaper than Blue Lagoon Resort. I assume it is similar now.

Other Restaurants

As far as I can tell, there is now only one restaurant other than the above. This is in the main wharf area and appears to be Chinese type.

Blue Lagoon Resort

The Blue Lagoon resort has a bar in the gardens. This is a hut with some shelter and which overlooks the grounds and lagoon. In 2005 beers were a reasonable US$2.50 each but in 2011 there were about US$3.50 PLUS a 50% tax (say US$5.25). It had a better range of beers than Truk Stop and included Japanese beers like Asahi. It seems to now open every night, far different to 1997 when it only opened one night out of the almost three weeks we were there.

Truk Stop

The Truk Stop's bar is called the Hard Wreck Cafe. It is located in front of and above the dive shop. It is a soleless bar, without much to really offer except for a pool table. Drinks were US$3.25 and brands drunk one night are not necessarily available the next. Not really recommended.
| | |
| --- | --- |
| | |
| Kelly and Michael at sunset drinks at Blue Lagoon | Truk Stop Wharf |
Alternatives
For both locations, buy some beers and nibblies (chips, peanuts etc) as mentioned below. For non-beer drinkers, get duty free alcohol and buy soft drinks. Take a collapsible cooler with you too enable you to take some drinks from your room (meanws you do not need to return to your room to get more).
For the Blue Lagoon resort, go down to the grassed area near the fish ponds. There is now a couple of large shelters here and seats. Best time is to get there about 5 pm and watch the sunset. This can be spectacular. For the Truk Stop, go out to the end of the wharf or near the dive lockers. Cheaper and far nicer.
Liveaboards
See above comments under accommodation for the two liveaboards.
Blue Lagoon Dive Shop
This is THE dive shop of Chuuk Lagoon. Established by the legendary late Kimiuo Aisek in 1973 and now managed by his son Gradvin, this is the most experienced dive operation in Chuuk. The dive guides are all very experienced, mostly having in excess of 8 years diving on the wrecks, are qualifed divemasters (imagine diving twice or more a day, 300 days a year, 600 dives a year, 4,800 dives in 8 years!). In 2011 we had Meckency for a couple of days. We had him our whole trip in 1997. He has worked for Blue Lagoon since 1994 and another operator for the three years before that. After this we had the legendary Cheney. He has worked for Blue Lagoon since 1978. Even Gradvin led dives in 2011 for about five days as they were very busy and Cheney left to go to DEMA in Florida. Our guide for the latter part of the trip was Keran.
The guides are quite extraordinary, using little air, keeping an eye on up to 8 divers at a time and still being able to show you everything on a wreck. Excellent dive briefs are generally given.
The dive boats are nothing flash. They used to be flimsy looking timber or fibreglass vessels (which were in fact quite solid and roomy). Now they are newer fibreglass Yamahas with better and larger engines (40 hp Yamahas mostly). There are also a number of different sizes. You will have no problems no matter your group size, although for groups over about 12 you will need to split into smaller groups. There are plenty of boats so they can cater for at least 60 divers at a time. This means that you can split your group into different levels of experience if need be. They also seem more flexible in terms of what you dive and how you plan your dives and you day.
The shop used to be located at the northern end of the town, towards the airport but the shop is now adjacent to the Blue Lagoon Resort. Boats run from the wharf at the shop but if there are a lot of divers, some may run from the wharf at the south-western corner of the Resort.
| | |
| --- | --- |
| | |
| Some of the Blue Lagoon boats | Blue Lagoon's Small Island |
If staying at the Truk Stop, they pick you up from your hotel by vehicle. For a lunch break, you used to be taken to Eten Island where they had a couple of tables, a covered area and a toilet. Now most people come back to the resort after their first dive, have lunch there and then head out for the second dive. They also have an island they call Fanamo (or Jeep) Island. You can go there for lunch if you want.

They offer Nitrox for diving and decompression at added costs, but it is quite reasonable (US$40 for 80 cf 40%).

They have dive washing tubs and lockable drying rooms at both the dive shop and the other wharf.

The quoted price for a double dive with tanks, weights is now US$110. Night dives are very expensive and second tanks for deeper dives were $5 but I expect are more now. In 2004 they also charged US$20 for certain deeper wrecks, no matter even if you did not want a second tank. If you plan to do the San Francisco Maru or the Aikoku Maru a few times it used to make the trip a lot more expensive. However, I they do not do this now. Extra dives appear to be US$45.

Truk Stop Dive Shop - formerly Sundance Dive Shop

They have two boats (used to be three but one was scuttled by someone). In 2004 one was a very large boat but it was in need of a fair bit of work. For all but a couple of days it only had one engine (a Catepillar turbo diesel) so it was slow and even when the other engine was put back in, it did not push the boat along at as fast a speed as the smaller boats of Blue Lagoon. It also had problems starting so they kept the engines running all day. The smaller boat seemed much better, it was powered by twin four stroke outboards and appears to be the pick of the Chuuk Lagoon dive boats. Now they appear to have a couple of boats like Blue Lagoon's larger boat.

One thing was that the dive planning when we visited was very poor. For example, they sometimes did the two dives with what we believed was too short a surface interval (at least for deep and continuous diving). I think they did this to get us to eat lunch at their hotel. Far better to stay out and have a packed lunch on one of the islands. A few times they took us to an excellent place they have set up on the western end of Dublon Island. This has a covered shelter and is very nice. This should have happened every day as far as we were concerned. We could not figure out why they did not set up a barbecue there and for a price, offer a good feed between dives. The hotel is too far to return back in between dives like you can do at the Blue Lagoon (it was at least an extra 15 minutes each way).

The dive operation was run by an imported dive instructor (he has since been sacked) and they use local guides. It seems they may another person who started about 2010. They were cheaper than Blue Lagoon in 2004 but now appear to be the same price. Their guides were very good. They also will provide second tanks for twins free so long as you only use two tanks a day. They will also provide a personal hang tank free and only charge you if you need to use. They also advised that some pony bottles are in the process of being obtained for free issue (I think) to those who want them.

They offer Nitrox for diving and decompression at added costs. However, all this may have changed since 2004.

They have small dive lockers at the start of the wharf and washing tubs.

After I suffered what appeared to be DCS (maybe - see article), they not only refused to refund my 14 unused dives, they attempted to charge me for some oxygen I used before going to the chamber as well as phone calls I did not make and calls they did make to DAN. Needless to say, I refused to pay as they had come out of it far better than the cost of the oxygen and calls.

Micronesia Aquatics

This shop was located just inside the grounds of the then Truk Continental. There were no signs on it and when I first asked at the shop on my November 1997 trip, I was informed that the "shop was closed and the owners gone home". Due to the nature of the shop, I assumed that the shop no longer existed. Other people on my trip were given a similar answer to queries. The shop was owned by Clark Graham, an American-born man married to a Chuukese women.

I discovered in the last two days of my trip (that is, after 15 nights), that the shop was still operating. In 2004 it appeared that they are really no longer in business.

ADVANTAGES - A and DISADVANTAGES - D

Both resort and dive operations have the following advantages:

Blue Lagoon

Truk Stop

A = Advantage D = Disadvantage

You can buy things like beer, soft drinks, chips etc from three main shops in town and a couple of mobile vans opposite the shops. The two main shops are Shigeto's Store which is a building just south of the commercial dock. There is also the MSW Store (almost opposite Truk Stop but behind the street front buildings) which seems to have a better range at a similar or better price. The other one is north of Shigetos behind the post office. This is the Chuuk Supermarket and had a lot of Australian goods (VB, Tooheys Dry, Hahn Premium, Arnotts Tim Tams, Streets ice creams). The beers are cheaper individually than beers in Sydney and the other items about the same price. A nice place to get a few luxuries.

A carton of 24 12oz cans of Asahi Super Dry was US$34 at MSW (US$39 at Shigetos) in 2011, much cheaper than in 1997.

If you are staying at Blue Lagoon, there is a shop just past the dive shop. This sells most things. It also sells beer but it is the same price as the resort (I think Gradvin owns it as well).

BANKS/MONEY

There was one ATM on Weno but in 2004 and 2005 it was non-operational and from what I have been told, it has been like this for a long time. In 2011 it was gone. I would suggest the following:

Food was about US$200 per week, drinks whatever you want to spend and additional dives etc again what you want. We allowed US$2000 for 17 nights for all costs.

ENTERTAINMENT

Basically, non-existent. There is not much entertainment on the island, even on a Friday or Saturday night the place is dead. The only excitement used to be the "Cockpit" which was a cock-fighting ring near the airport in 1994 (we saw it from the Roof Garden Steak House) which was really as bad as it sounds. However, it has now closed down.

I happened to be in Chuuk for the Chuuk Music Festival held over the weekend of 14 and 15 November 1997. We went to the second night. It was supposed to start at 7.00pm but did not start till 9.30pm and even then it was hardly exciting. It mainly consisted of school children singing to recorded music. In fact, the best group we saw played the next afternoon after it was all over (they may have played the night before but even though we went home after midnight, we never saw them).

On Sundays there is normally a baseball game opposite the Chuuk Star and this was quite interesting way to kill an hour.

CAR RENTAL

Vehicles used to be available for hire for US$55 a day from the Truk Stop (Toyota HiLux Surf 4WD). The vehicles are not the greatest but they do the job.

One day will more than enable you to see the whole island. Things to see are the gun in the cave above the town, the Japanese airstrip remains near the Blue Lagoon, the Resort itself (good for a swim at the end of the day), the Japanese communications centre - now Xavier High School and a few other things. Do not really worry if you do not see the place, there is bugger all to see really. Note the Japanese lighthouse is on private land and in 2004 they wanted US$10 a person to visit. Not worth more than a dollar or two per person.

HOW LONG TO STAY?

This is the big question. How much can you afford in leave and money? For two of my trips I stayed 14 nights and in 2011 17 nights. If you can stay longer, do it. My view is that you are better to go for 17 nights and stay at Blue Lagoon rather than spend the same amount of money and stay on a liveaboard. Why? Well, you will end up doing more dives (say 30 or so dives compared to 24) but you will be able to do 15 deeper dives compared to only 6 on a liveaboard.

CAN I TAKE A NON-DIVING PARTNER OR CHILD

Yes, but I think you would waste your money and get divorced afterwards. Better to let the other half take the kids somewhere else. It is a very expensive place to just sit and read a book (and I can attest to this having spent most of my 2004 unable to dive).

SUMMARY

Chuuk used to be not the place for the overly fussy unless you are on one of the liveaboards. Despite all this, the diving makes up for it all. It is still the best dive location in the world.

I would only recommend Blue Lagoon as I feel their overall service is far superior to Truk Stop and the land based is better than liveaboard.