COLL - SCOTLAND
The Isle of Coll is located in the Inner Hebrides, Scotland. This is off the west coast of the Scottish mainland. Coll is 10 kilometres north-west of the Isle of Mull and about 65 kilometres north-west of Oban, the nearest major city. It is a wind-blown place, open to the cold Artic winds that sweep down from the north.
Coll is very flat and does not appear to have a single tree, or at least what we in Australia would call a tree. The vegetation is mostly grass with a low heath like shrub cover over the natural parts of the island. It is about 17 kilometres long (north-east to south-west) and 5 kilometres wide. There are only three real roads, one that crosses the centre of the island at the middle, one that loops the coast on the southern half (but does not actually join with the first road) and another that runs from the end of the first to the northern end. I visited Coll from 13 to 15 August 2013 and bicycled or drove most of the island.
The western side of Scotland, Coll is the island
covered in cloud top left
The Isle of Coll covered in cloud
RECORDS OF BIRTHS, MARRIAGES, CENSUS
As far as is known, records were not kept prior to 1776. In 1776 a census was compiled by the new assistant minister, Charles Stewart, who arrived to serve the island. He created a list which became known as the Catechist's List. This recorded each household on every farm or town and at the same time, he examined them for their familiarity with the Presbyterian Catechism (this is funny as much later in our family, there would be big fights over my Uncle Bobby marrying a "Proddo" outside the Catholic Church - we were Proddos till at least the early 1900s!)
It also looks like Rev Stewart started recording the baptism and marriages for the island. These are available on the internet at Isle of Coll Genealogy.
There were also Government census carried out starting about 1801 but recording the names of the residents only started in the 1841 census. The 1841, 1851 and 1861 census are also available at Isle of Coll Genealogy. All these files are Excel spreadsheets.
The marriage and baptism records appear to have missing entries, so it appears that not every event was recorded.
My parents, grandparents, great grandparents and great great grandparents

PRE 1700s

The McFadyens appear to have moved to Coll from Mull in about the late 1500s. They originally settled at Ardnish. It is said they had been dispossessed from Lochbuie in Mull, probably when their Maclean laird lost estates there. This is from researcher, Brenda Dougall Merriman of Canada, my 4th cousin removed.

As is typical for a small island, or for that matter, a village, in the pre-1900s, the community on Coll was very insular, with a very small gene pool. For example, the main families in the 1776 census on Coll (see below for details) were:

Therefore, 768 of the 938 residents (including children) were from only six families. This is 82%. Note that the female parents were recorded under their original family name, not their married name.

One of the problems with working out my descendents prior to 1776 is that there are no other records surviving from before this date (that I or other researchers know of). Therefore, some of the pre-1776 information contained below about who my forebears were is a matter of supposition.

The other problem is that in Scotland (and a lot of other places), the tradition was to name your children after your parents. For example, if I had children, then they should be named John, Marie, Tomas and Mary after Kelly and my parents. If there are more children than this, it appears that names are taken from uncles and aunties. In the 1776 census, the top seven Christian names were:

Therefore, 723 people (77%) shared the same seven names. Combined with the small number of surnames, this means it is very confusing. For example, there are 17 Catharine McDonalds, 20 John McDonalds, 18 Flora McLeans and 22 John McLeans. Therefore, 8% of the island have these four names.

As mentioned, some of the people I claim as being my forebears prior to 1776 are guesses, based on the above knowledge about naming of children and knowing which names have been used in known generations.

I will start at the earliest spot that I can make some sort of educated guess about who is directly related to me.

SPELLING OF McFADYEN

The name of our family is, to be honest, one that many people have problems spelling. Even now, when we are all educated, spellings can vary hugely when you tell someone your name. Of course, back in the 1700s and 1800s, very few people were educated to an extent that they could read and write. Therefore, the name McFadyen has been recorded differently over the years. The following are some of the spellings used in the 1776, 1841 and 1851 censuses as well as in records of marriages and baptisms. Even the same person's name can be spelt differently within a few years.

Note that I believe that some records of people who served in wars in the early 1700s used the McFadyen spelling.

I have also seen in present times McFadgean (which is how some of my cousins pronounce the name, even though they spell it McFadyen). As far as I can see, at least in Australia, none of the McPh spellings exist and mostly they are McFadyen, McFayden or McFadden.

McFADYENS

The following give details of all generations from the earliest to my generation and the ones after me. The major part of the information is limited to my direct forebears, but where known, I will also include details of other McFadyens and their descendents.

1st Generation (guess) - Angus McPhaiden

In about 1725, a baby boy was born on Coll. His name was Angus McPhaiden (or Angus McFadyen). About the same time, a girl called Ann McKinnon was born. I do not know who their parents were. Angus was probably my great-great-great-great-great-great-grandfather and Ann my great-great-great-great-great-great-grandmother. Angus was probably a farmer, more likely than not, one who worked a property in return for free rent (a cottar).

Marriage: About 1745
Children: Lachlane McPhaiden (Lachlan) - may have been more children before and after, but none appear in the available baptism records after 1776
Angus McPhaiden's brothers and sisters: None known

2nd Generation (guess) - Lachlane McPhaiden

In about 1750, a baby was born. He was Lachlane (Lachlan) McPhaiden (McFadyen). I have no definitive evidence as to who his parents were, but my educated guess (as explained above) is as per the 1st Generation paragraph. Lachlan McPhaiden was almost certainly my great-great-great-great-great-grandfather.

In about the same year, a baby girl was born. Her name was Flora McLean. Her parents were either Roderick McLean and Flora Morrison or Hector McLean and Mary McLean (other children Lachlan and Donald). It is hard to make a guess about this as both have names that are very common in the family in later generations.

Lachlan was probably a cottar. A cottar was a person permitted to stay in a house on a farm in return for labouring on the farm. A crofter was a farmer who leased a section of a farm (therefore, he made the profit). In about 1770 (the year Lieutenant James Cook RN discovered the east coast of Australia), Lachlan married Flora McLean.

In 1773 they had a baby boy who they named Donald. In the 1776 census, Lachlane, Flora and Donald were living at Arnabost. Nowadays, it is a small locality at the intersection of two roads. It is on the north-western coast of Coll. In the early to mid-1700s it was probably a hamlet rather than a village.

Marriage: Flora McLean about 1770
Children: Donald (1773), Allan (1782), John (1786), Lachlan, Mary (1788), Marion (1791), Kate (1794) - educated guesses that these are to the same parents
Lachlane McPhaiden's brothers and sisters: None known

Other possibilities:
There is still some confusion about the parents of the Donald who was my great-great-great-great-grandfather, it is possible that his parents were Duncan McPhaiden and Catharine McDonald. I and others (see references at the end of this section) discount Duncan and Catharine for the following reason. As there are no Duncans or Catharines in any generation between me and this first generation, it is unlikely that they are the parents of "my Donald" (as my cousin, Brenda Dougall Merriman of Canada calls him).

The other alternative parents of "my Donald" were an unknown male McPhaiden and Mary McPhaiden. Mary was widowed by at least 1776. She had children John (over 7 or perhaps 12 - it is not know whether the column recording younger children meant under 12 or 7), Ann (younger), then Donald and then Flora. While John and Flora are names used a lot later in the McFadyen family, Mary was not used by "my Donald" in naming his children and does not appear later but Lachlan was Donald's eldest son.

Therefore, it is likely that Lachlane was Donald's father.

3rd Generation (fact) - Donald McFadyen

As mentioned above, Donald McPhaiden was born in 1773 at Arnabost on the Isle of Coll, Scotland. It appears that in about 1778 Flora McLean (Maclean) was born (she was listed as 50 years old in 1828 - see below). In about 1797 Donald and Flora were married. In 1798 their first son, Lachlan, was born. A second son, Angus, was born in 1801 but it appears he died within a short period as his record in the births/baptisms records do not show a date for the baptism. In addition, another son would later be also named Angus. They were living at Torostan when Angus was born.

Marriage: Flora McLean about 1797
Children: Lachlan (1798), Angus (1801), Roderick (1806), Hector (1811), Anne (1811), John (1816), Donald (1818) and another Angus (1819)
Donald McFadyen's brothers and sisters: I have no information of what may have happened to them

They were still living at Torostan in 1816. When the 1819 Angus was born, they were living at Cliad which is less than a kilometre from Arnabost.

Donald was probably a farmer, but it appears he might have become a professional solder after this. It is certainly known that in 1807 at the age of 35 (the maximum age to enlist), he joined the 2nd Battalion of the 91st Regiment of Foot (Argyllshire and Sutherland Highlanders). In the papers completed when he signed up for the full seven year term, he was described as 5' 4" (typical for that time) with a round face and brown hair, brown eyes and a brown complexion. This is interesting as all our family have what I would also call a brown complexion. It seems that Donald was not sent away to fight Napoleon's French Army, but he remained "at depot" in Ayr. He was discharged on 24 December 1814.

He obviously was granted leave during this period as two children were born.

It is presumed that he returned to farming, but he possibly had some sort of pension from his time in the Army.

In 1828, Donald and most of his family travelled from Coll to Tobermory on the Isle of Mull. Here, they boarded the ship St Lawrence and sailed to Canada. They arrived at Ship Harbour, Cape Breton, Nova Scotia on 12 July 1828. This line of the McFadyens would settle Canada. Brenda Dougall Merriman is descended from Hector. Donald is both her and my great great great great grandfather.

4th Generation - Roderick McFadyen

Roderick McPhadian (McFadyen) appears to have remained behind on Coll, living at Arivorich. On 29 August 1826, two years prior to his father and all the rest of his brothers and sisters (I think) moving to Canada, Roderick McFadden (as it appeared in the records) married Marion McDonald of Grishipoll.

Now this is a bit that has confused me, as the census of 1841 and 1851 records Roderick's wife as being called Marion but my uncle Jim McCarthy called her Sarah McDonald in his family tree produced in the 1980s. I had thought that perhaps Marion was her real name and she used Sarah, as this is what she is buried under at East Maitland in NSW, Australia and what is shown in her death registration and the registration of her children's deaths.

However, Brenda Dougall Merriman has told me that she has recently discovered (2013) that it was common to interchange the names "Sarah" and "Marion". No idea why as they are not even similar names.

Marriage: 29 August 1826
Children: Flora (1827), John (1829), Donald (1831), Isabel, Isabelle or Isabella (1834), Lachlan (1838), Jane (1840), Hugh (1843) and James Roderick (14 December 1847)
Roderick McFadyen's brothers and sisters: As mentioned above, most appear to have migrated to Canada, specifically Nova Scotia, in 1828.

Roderick probably did not move to Canada in 1828 with the rest of his family as Marion was pregnant with Flora or had just had her.

When Flora was born Rory (as Roderick was recorded in the birth/baptism record) was a tenant living at Arivorich. When John was born in 1829 and they were living at Grishipoll and Roderick was a cottar. In from at least 1841 to 1847 they were living at Torrandeich (not sure where this is as I cannot find on a map).

In the 1841 census of Coll, the family name is recorded variously, for Roderick it was McPhadian. In the census, all the children except Hugh and James (who were not born) are listed. Roderick is listed as a cottar (farmer labouring for free house rent). I think that John, who was 10 or 11, was listed as a Servant on lot 139 Grishipoll. This about 1.5 kilometres in a straight line from Arnabost. The family he is working for is headed by Archibald McFaden (30 to 34 yo) with (presumably) his mother Flora McFaden (55 to 59 yo) and others. It is not known what relation they were.

In the 1851 census, the family name is listed as McFadyen. In it, John and Jane are not listed. Donald appears to be listed as a Farm Servant (19 years old) on Christy McLean's farm at Kilbride (this is on the south-eastern side, about half way from the only town about half way to the southern intersection). I assume Jane died as she would have only been 11 in 1851. She is also not on Uncle Jim's family tree nor is Donald. John would have been 21 when the census was taken.

An interesting fact is that the birth of James Roderick was not recorded in the baptism records till 1856. Therefore, they were still living on Coll in early 1856. I had suspected that this was just before they left for Australia and James was baptised in case he died on the trip. This was confirmed by Brenda Dougall Merriman who advised me that they migrated to Australia on the Lloyds in 1856. The cost of the travel was £60 and this was paid for by Marion/Sarah's brother Hugh McDonald.

They arrived (in Sydney?) on the Lloyds on 4 September 1856. On the ship's register, the family name is given as McFayden.

5th Generation - John McFadyen

As mentioned, one of Roderick's children was John. In the 1851 and 1861 censuses he is not listed as living on Coll. I always presumed that perhaps he had already moved away and migrated to Australia and now I in 2013 I was almost certain of this. However, I have now seen a copy of the arrival log for the Lloyds and on it John is listed. Therefore, it seems that he must have moved somewhere but then came back to Coll in time for the family's move to Australia in 1856.

The family would have travelled via Sydney. They then moved up to the Hunter Valley, settling near the small town of Morpeth. Morpeth is on the Hunter River, east of Maitland and west of Newcastle.

In 1860 he married Marjery McPherson of Millers Forest (this is about 12 kilometres from Morpeth). John McFadyen was said to be a farmer at Narrowgut. This was a piece of land to the west of Morpeth. In the 1800 and early 1900s, the Hunter River had a huge meander here (like an upsidedown U). There were about 20 small farms on the inside of the meander.

Farm 3 was 21.56 acres and was taken up by John McFadyen. Of interest, this land would much later become farmed by the Pilledges. Pamela Pilledge married my Uncle Bill in 1953. As mentioned, they arrived in Australia in 1856. Later Isabelle moved to Melbourne, not sure when. Lachlan, Hugh and James seem to have stayed in the Hunter Valley. I am not sure what happened to Donald and Flora. Perhaps they moved, perhaps they stayed on Coll, perhaps they died.

Marriage: 1860 to Marjery McPherson
Children: Donald McFadyen (1863 - 1935), Bob McFadyen (unknown), Charlie McFadyen (1879 - 1949), Flora (Florrie) McFadyen (1882 - 1954), Alex McFadyen (1867 - 1927), Bill McFadyen (1873 - 1906), Isabelle (Belle) McFadyen (1869 - 1951), Aird McFadyen (not sure about this one), Annie McFadyen (1861 - 1935) and John Edward McFadyen (1871 - 1943)
John McFadyen's brothers and sisters: Flora (1827), Donald (not known), Isabel or Isabelle (not known), Lachlan (farmer in same area), Jane (died at age 0?), Hugh (1843 Hugh was a builder) and James Roderick moved to Sydney later and lived in Sussex Street. More about them follows.

The following information has been gathered from the National Library of Australia's newspaper web site NLA Australia Newspapers.

As mentioned, John and his father farmed part of Narrowgut. Hugh must have lived close, perhaps even with them.

We know that James McFadyen moved to Sydney as on 16 February 1875 an advertisement in the Maitland Mercury and Hunter River General Advertiser advertised "Davies & McFadyen - Commission Agents, 13 King Street West, Sydney". The new company purchased farm products from the Hunter area and resold them in Sydney. It appears that it was a fairly prosperous companies.

On Monday 1 March 1875, the Speaker of the New South Wales Legislative Assembly, the Hon. W. M. Arnold was at his property Stradbroke. This is on the Paterson River near Hinton. With him was 22 year old Hugh McFadyen. The Paterson River was in flood. It was eight feet (2.6 metres) higher than the previously recorded level. Arnold and Hugh went in a row-boat across the flooded paddocks and collected some pumpkins. On the way back, at about 7 pm to 8 pm, the boat struck a log and was holed.

The boat sank and both were thrown into the water. The swiftly running water swept them downstream. They stayed near each other for a while till Mr Arnold sang out "good-bye" and he sank. Hugh managed to get into a willow tree on the side of the river. It seems that this was seen by others and they kept an eye on him all night. The next morning, a rope was somehow passed to Hugh and he was pulled to safety. Mr Arnold's body was found a few days later.

It seems that Hugh must have worked at a few jobs, as on Tuesday 20 July 1875, the Morpeth Borough Council accepted a quote from Hugh McFadyen to build a new residence for the puntman at the Morpeth Ferry. This was on the Phoenix Park side of the Hunter River. The price was £22.

The 17th Annual Show of the Hunter River Agricultural and Horticultural Association was held at West Maitland on Wednesday 21 March 1877. John McFadyen's crochet work was commended and he also won a prize for "coaching his mare, Fanny". John's participation in the annual show would continue for the rest of his life.

The McFadyen's were throwing themselves into the local community. On Sunday 23 March 1778, Donald McFadyen (then 16) played cricket for Morpeth Public School (Cricket Club I think) against Wormley House Grammar School (Cricket Club) at Wormley House. They lost and Donald did not perform too well.

The Sydney Morning Herald of 7 October 1878 had a number of advertisements for the funeral for a man in Sydney. One of these advertisements was placed by J. R. McFadyen, WM (Worshipful Master) of No 66 Loyal Orange Lodge. Yes, the McFadyens were still "Proddos"! More about this later. Of course, J. R. was James Roderick McFadyen.

On Thursday 6 February 1879 the Sydney Morning Herald carried an advertisement stating that the partnership between W. H. Davies and J. R. McFadyen had been ended as of 1 February 1879. James took over the sole operation of the business, now known as J. R. McFadyen, Commission Agent. His offices were located at 181 Sussex Street.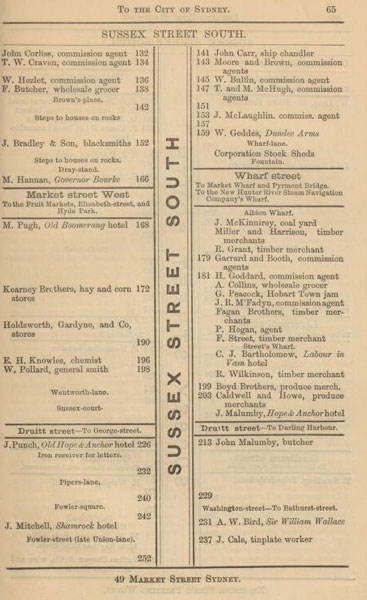 The "map" of Sussex Street from a book called Handbook to the City of Sydney - 1879. It has all the streets and the businesses at each building listed. Available from Trove at the National Library of Australia. This shows J. R. M'Fadyen at 181 Sussex Street.
In late July or early August 1879, "young McFadyen" was leading his horse across a flooded road near the Raworth Hains Bridge when he was swept towards the river. His father, John McFadyen, rescued him. Raworth was a small village between East Maitland and Morpeth.
The Sydney International Exhibition 1879 (which ran from 17 September 1879 to 20 April 1880) was set up to showcase Australian and international products. It was held in a purpose built building opposite the NSW Library (in what is now the Sydney Botanic Gardens). At this exhibition, John McFadyen had a display of millet brooms. Perhaps he was producing these as a by-product of his farming. Of interest, John Wyndham was showing wines (Wyndham Estate is still one of Australia's best know wineries).
On Wednesday 2 June 1880, the 21st annual Hunter River Agricultural and Horticultural Association Ploughing Matches were held. John McFadyen was a judge. John was certainly busy in the local community as on Wednesday 26 May 1880, a meeting was held to set up the Largs Protectionists. It was attended by John McFadyen. Their aim was to have a tax put on imported farm products. The next meeting was held on Monday 31 May 1880 and at this meeting he moved that a petition be adopted and sent to Parliament about this matter. It was passed.
The 21st exhibition of the Hunter River Agricultural and Horticultural Association was held on 6 April 1881 at the West Maitland showgrounds. John McFadyen won second prize for "3 bushels of cob maize, Hogan's variety". This prize was 10 shillings, a pretty good amount.
On Friday 24 June 1881, Hugh McFadyen was convicted in the Morpeth Police Court of public drunkenness by C. E. Jaques, JP, and fined 5 shillings or 24 hours imprisonment. It is not recorded if he paid or went to gaol.
John McFadyen was re-elected as Treasurer of the Hunter River Farmers' Association at its half-yearly meeting on Monday 9 January 1882 in the School of Arts at Largs.
Saturday 14 January 1882 saw Hugh McFadyen again arrested for public drunkenness. This was on Swan Street, Morpeth. On Monday 17 January 1882 he appeared before Dr Spink, JP, at the East Maitland Police Court. He was found guilty and fined 10 shillings or three days imprisonment. Seems like Hugh liked a drink or two. I can guarantee that he is not the only McFadyen to have ever been drunk in the Morpeth Hotel!
It appears that James Roderick McFadyen became ill as he moved back to Narrowgut, Morpeth. On 25 March 1883 he died there, only 36 years old. He normally lived in Sussex Street, Sydney. A tragically short life.
In the Maitland Mercury on Saturday 21 July 1883 it was reported that Hugh McFadyen was building another puntman's residence. This was for the ferry at Largs. The report said he was "executing his work most creditably".
On Saturday 28 November 1885, Morpeth Public School Cricket Club played Woodville Excelsiors (Woodville is a small village further up the Paterson River and on the road from Maitland to Paterson). The match was held at Largs. John and William (Bill) McFadyen played (there are two W. McFadyens recorded as batting in each innings, not sure if they were short and he batted twice). John scored 13 and 20 to head the Morpeth batting and a McFadyen (not sure who) took three wickets. They still lost.
Yet another McFadyen appeared in court on Monday 21 February 1887. John McFadyen appeared in the West Maitland Police Court changed with a breach of the Pastures and Stocks Protection Act. It was reported that he had not submitted his returns of how many large stock he had on his land. He was fined 1 shilling.
On Tuesday 15 November 1887, John McFadyen and many other Phoenix Park farmers were at the Maitland District Council meeting to complain that the water from the roads through Phoenix Park was running onto their properties causing inundation. On Tuesday 22 November 1887, the Council agreed to spend £10 to clean out the drains along the roads. In late December 1887, a major flood affected John's property. In June 1889 the matter of water from the roads affecting the properties was again back before the Council.
It seems that although John's first property was at Narrowgut, he must have purchased a new farm on the north side of the Hunter River at Phoenix Park.
A meeting was held at the home of W. Collard Senior on Tuesday 18 June 1889 to get the Bolwarra and Glenarvon Dams repaired after the recent floods. John McFadyen was one of the main pushers for this to happen.
As you can see from earlier, to cross the Hunter and Paterson Rivers to get to the area where the McFadyen's farmed you needed to use a punt or ferry. On Thursday 29 August 1889 a deputation from the Morpeth and Hinton area went to Sydney to meet with the Minister for Works, Bruce Smith. This meeting was to push the case for road bridges to be built at Morpeth (across the Hunter River) and Hinton (across the Paterson River). These would replace the man powered punts/ferries presently in place. As well as the Member for Morpeth, Myles McRae, John McFadyen was one of the attendees. The Minister for Lands, J. N. Brunker was also at the meeting. The deputation put up a proposal to build the bridges which they had costed at £51,000 ($100,000).
The Morpeth Presperterian School Fete was held on Friday 20 September 1889. The McFadyen ladies, Belle, Florrie and Aird made a banner which was carried by four of the schoolgirls. Marjery McFadyen and Jemima McFadyen (Lachlan's wife) made a lot of the food. It was a great success.
On Saturday 5 October 1889, Donald McFadyen wrote to the Maitland Mercury with a suggestion that the local community needed to establish a co-operative for dairy farmers. At this time, Donald was obviously in the dairy industry as it will become apparent later.
The Member for Morpeth, Mr Myles McRae, wrote to the Maitland Mercury on 24 December 1889 advising that he had made representations on behalf of John McFadyen about the conditions of the approaches to the (Morpeth?) punt. Mr McRae advised that the Secretary for Public Works had advised that repairs would be undertaken.
Donald McFadyen prospered and became the Manager of the Fresh Food and Ice Company. A strike by the "Milk Boy's" in January 1908 at the Liverpool Street establishment of the company was causing problems. Some of the milk cart boys (who assisted the main drivers) who worked mornings wanted to be paid the same as others who worked mornings and afternoons. Donald explained why this could not be done (for quite obvious reasons). On Thursday 24 September 1908 he attended a meeting of dairy farmers at Gerringong about the supply of milk to his company. There was no outcome recorded from this meeting. Donald McFadyen appears to have spent his later years writing letters to the editor of the Sydney Morning Herald and living at Lindfield.
In the Sydney Morning Herald of 27 August 1913, there was a report of a court case which involved Hugh McFadyen. I do not know if this is John's brother Hugh, but it could be. On 12 August 1913, Hugh was a night watchman on a ship, the James Tuft which was in Johnston's Bay in Sydney Harbour. This is the waterway between Pyrmont and Whites Bay, the entrance to Roselle Bay and leads under the Anzac Bridge. He was attacked by James McCull. McCull was charged with grievous bodily harm and was found guilty at a trial on 26 August 1913 before Judge Murray at the Quarter Sessions.
John died in 1912 and was buried at Phoenix Park (only a kilometre or so away). Marjery died in 1918 and was also buried at Phoenix Park.
The McFadyens could now claim to be true blue Aussies!
References:
6th Generation - John Edward McFadyen Senior
Unlike his forebears, John Edward McFadyen was not a farmer. I presume that when he was about 14 or 15 he moved to Sydney to work and live. I am not sure what he did as my father, John Samuel McFadyen, did not recall. He lived in Sydney and Dad remembered meeting him only a couple of times. He married Elizabeth Punch in 1896.
Marriage: 1896 to Elizabeth Punch - divorced 1908,
Children: Eileen Alice (20 July 1899), Marjorie Mary (or perhaps Marjory - 13 November 1900) and my grandfather, John Edward (2 February 1903). I at first thought that he remarried in 1915 but it seems it was a different John McFadyen.
Elizabeth and John Edward McFadyen (Snr) had three children as above. Dad thought that when John junior (my grandfather) was about 8 or 9 years old (that is, in about 1911 or 1912), John senior and Elizabeth separated. However, it must have been a lot earlier as they were divorced on 16 December 1908 when John junior was almost six. I do not know much at all about John Edward McFadyen (Snr) or Elizabeth (Lizzy) McFadyen. Dad said he only met his grandfather a couple of times and said his father had bad feelings towards his own mother (Lizzy) for not keeping he and his sisters together.
It would seem that he drank and was perhaps violent to his wife.
Children of other 5th Generation McFadyens:

The property at Narrowgut was cut off from a direct link to Morpeth when the 1949 flood change the course of the Hunter River, making the old part of the river a billabong.
7th Generation - John Edward McFadyen Junior
As mentioned, my great-grandfather. John Edward McFadyen (Snr) separated from my great-grandmother in about 1907 and was divorced in 1908. Dad thought that at this time, Aunty Eileen and Aunty Marjorie were sent away to some sort of boarding school. However, my cousin Judy Hudson (Judith Chant - grand-daughter of Eileen) says that they were sent to Loretto College at Kirribilli on Sydney Harbour. This is a very expensive Catholic school. I am not sure if it was a boarding school. Grandfather (Morpar as I called him - short for More Pa) was sent to live on the family farm at Morpeth. Morpar was only five or so.
This farm was located to the north-west of Morpeth town and to the east of Narrowgut. It may be the farm that John McFadyen owned in the 1880s. It was about 50 acres. This property was farmed by his Uncles Bob, Charlie and Alec (Alex) and Aunty Flo (Florrie). He lived here for the rest of his childhood. Dad says that Morpar never forgave his mother for sending him away. He obviously became a farmer. For some strange reason, the Uncles and Aunty Flo paid for Eileen and Marjorie's tuition at Loretto College. Elizabeth Punch's family was very well off, owning lots of what are now very famous Sydney hotels.
In the mid-1920s, John Edward McFadyen (Jnr) purchased the block of land next to the property he grew up on. This is closer to Morpeth and is the land to the north and west of Morpeth Bridge. This is the land west and north of what is now called McFadyens Road. It was 36 acres.
Marriage: Grace White (born 26 January 1903).
Children: Robert (Bobby) Alexander (19 July 1929 - died 17 December 2012), John Samuel (29 January 1932 - died 28 July 2010), William (Bill) Frederick (21 December 1934 - died 2 November 2018), Rose Marie (3 March 1938 - died 1 March 2016) and Samuel Michael (known as Michael) (10 April 1936 - died 30 December 2011 suddenly in the Paterson Hotel).
The property that John Edward McFadyen (Jnr) grew up on was sold in about 1943 or 1944.
My grandmother Grace McFadyen died on 19 June 1954. My grandfather John McFadyen married again after this, to Edith (Edy) Searles in early 1956. John died on 15 July 1960 (the day after my third birthday - my second earliest memory is of the funeral). Both my grandparents are buried at Morpeth.
After Morpar died, the farm was sold. Bobby was in the Royal Australian Navy from 1948 (including on the first Australian ship to serve in the Korean War - HMAS Shoalhaven) till 1959. He then then spent the rest of his working life in the merchant navy. He ended up living north-west of Melbourne from about 1997. Bobby married Dorothy (Dot) in 1950 and they had two children, Joanne McFadyen (1952) and Warwick (1958).
Michael never married and lived most of his life at Paterson. He worked as a truck driver for Oak Dairy. He was heavily involved in the community of Patterson, especially the Paterson Cricket Club.
Rose married Noel Badior and lived at East Maitland and then Bolwarra.
Bill married Pamela Pillage in 1953 and they lived at Lochivar. He built swimming pools, first for Frank O'Neill Swimming Pools and then for himself. He retired in about 1980. He lived at Bolwarra Heights till he died.
Children of other 6th Generation McFadyens:

8th Generation - John Samuel McFadyen
John Samuel McFadyen, my father, moved to Sydney when he was 15. He joined the NSW Public Service and worked in the Lands Department till 1967. He then was part of the small team who established the NSW National Parks and Wildlife Service in 1967 and he remained working there till he retired in 1990. Dad died on Wednesday 28 July 2010 after been ill for a long time, although it was sudden.
Marriage: Marie Rose Nelson 1956
Children: Michael John McFadyen (1957), Cathie Maree McFadyen (1959), Stephen Anthony McFadyen (1963), Paul Gerard McFadyen (1965) and Janelle Anne McFadyen (1976).
On 8 September 1956 John married Marie Rose Nelson, son of George Henry Nelson (Snr). My grandfather was born to a Swedish seaman (John Nelson or perhaps Nelsen or Neilsen) who jumped ship in Sydney in the late 1800s (yes, illegal migrant - perhaps that is why I do not mind decent people who come here but illegally). Mum had a brother, George Henry Nelson (Jnr) - died 27 Janaury 2013. Pa had a brother, Charlie and a sister (Isabel) who I remember and two other brothers John A Nelson and Herbert (Bert) Nelson (who I met only once when he lived at The Entrance).
In July 1957, Michael John McFadyen (me) was born. Cathie Maree McFadyen was born - September 1959, Stephen Anthony McFadyen - November 1963, Paul Gerard McFadyen - October 1965 and Janelle Anne McFadyen - February 1976.
In November 1960 Mum and Dad moved to 53 Dwyer Avenue, Little Bay. Mum and Paul still live there.
9th Generation - Michael John McFadyen
Marriage: I married Kelly Jandik (daughter of Tomas and Mary Jandik - migrated as refugees from what is now Czech Republic in 1968) on 26 May 2007.
Children: We had no children and divorced in 2020.
Cathie married Joseph Barry (b January 1965) from Kilkenny, Ireland. They have three boys, Keiran John Barry (November 1990), Scott Joseph Barry (May 1993) and Brendan Michael Barry (December 1997).
Stephen married Gail Ernst and they have two children. Patrick (March 1991) and Michelle McFadyen (November 1993).
Janelle married Karl Hartmann. They have two children, Joshua James Hartmann (April 2007) and Isabelle Grace Hartmann (June 2010).
Paul is not married.
Other 9th Generation children. Debbie married Jimmy Farrugia and they had 4 children, Lauren, Carly, Tristan and Justin. Warwick married Pippa and had two children, (Elizabeth) Grace and Hamish (died 2019).
10th Generation
On my side of the family, there is only one person now who can pass on the McFadyen name, Patrick. Dad's brother Bill has two sons, David and Peter, who both have sons who can pass on the name. David lives in Stockholm, Sweden. Sadly, Warwick's (Rick) son Hamish died in 2019 at the very young age of 21.
11th Generation
There are 10 members of this generation in our branch of the family. Kathryn Hooke, daughter of my cousin Denece Hewitt (daughter of Bill - she died in January 2009), has three boys (Thomas, Charlie and Louis) and a girl (Annabelle) and her sister, Rachel, has two boys (Joshua and Joseph). Their other sister, Emily, has a girl born February 2013. Her name is Josephine Denece Perkins.
Lauren Dorn, daughter of my cousin Deb (daughter of Bill), has three daughters, Roxanne, born early 2012, Marlowe born March 2015 and Nelle born May 2020. Lauren is married to rugby league player Luke Dorn and lived in the UK for a long time but came back to Australia in 2016.
References:
Emails from Kristy Howard, descendant from Isabella McFadyen (born 1834)

More about Me

Click here to go back to the About Me page on my web site.