CENTRAL AUSTRALIA TRIP - AUGUST 2010 - PART 2 - THARGOMINDAH TO BIRDSVILLE
For the previous part of this trip, click here.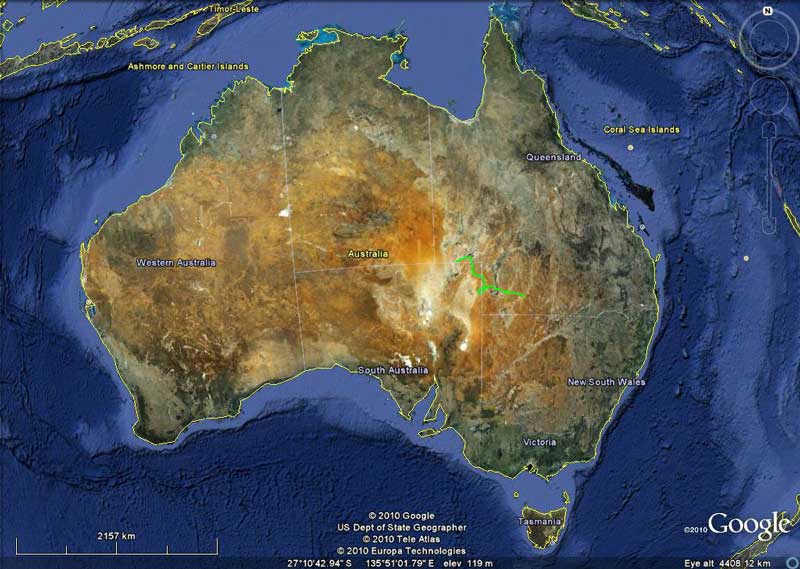 Part Two of our trip, Thargomindah is bottom right of track and Birdsville is top
Day 4 - Monday 9 August 2010 - Thargomindah to Dig Tree
Weather: 10ÂșC and cloudy
Today we do not need to go as far as yesterday, so we can have a leisurely start. We get up at 8 am and have breakfast before packing up. We leave at 9 am and drive into Thargomindah where Peter F needs to refuel. There is a nice park with toilets and gas barbecues opposite the swimming pool.
| | |
| --- | --- |
| | |
| The Thargomindah hydro scheme - note the steam from the water | The landscape on the road near Noccundra |
Just as we leave town there is the Thargomindah Bore. The water comes out at 55ÂșC and drives a generator to provide power for the town. Quite a good display. We leave at 9:22 am. The tar road continues west and about 80 minutes later we arrive at an intersection.
The road on our left leads to Noccundra and also onto to Tibooburra in the far top left corner of NSW. It is only 20 or so kilometres down this tar road to Noccundra. This town has a pub, and that is it. We arrive at Noccundra at 11:35 am. We had originally planned to camp here on the Wilson River but yesterday's late start put paid to that idea.
| | |
| --- | --- |
| | |
| Outside the Noccundra Hotel | Me, Kelly and Tomas inside the Noccundra Hotel |
We have a beer in the pub and have a look around. There is a huge motor home across from the pub towing a trailer with a decent sized 4WD. There are toilets and showers for campers to use near the pub. We leave at noon and head back to the main road and then turn left to Innamincka.
A few kilometres on we turn left again and head towards Naccowlah Oil Field. It is about 150 kilometres to our destination. At 12:45 pm we pass the Jackson Oil Field. The tar ends about 20 kilometres past here (from memory) and at 1:30 pm we cross the Cooper Creek. It is flowing quite strong. We stop here for lunch and watch the swallows and kites flying all over the place. We leave at 2 pm.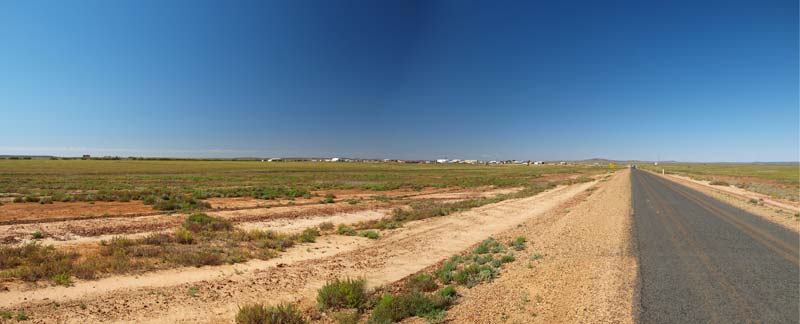 Jackson Oil Field
From here we will be basically on dirt roads for the next eight days, with only some smallish sections of tar. The road to Nappa Merrie and the Dig Tree is fairly good, but there are sections with water right across the road and some muddy sections. About 10 kilometres from Nappa Merrie the tar restarts for the rest of the way till the turn-off to the Dig Tree and past this to Nappa Merrie.
When I started planning this trip in about 2008, I originally did not have a stay at Noccundra planned or even at the Dig Tree. However, the rain of January/February 2010 caused the areas around Innamincka in South Australia to be flooded and for one of our destinations, Coongie Lakes National Park, to be totally closed. It is forecast that Coongie Lakes will not be open till at least November 2010.
I also planned to travel via Walkers Crossing from Innamincka to Birdsville, but that road is still closed at Cooper Creek. The Cooper is (despite its name) a long river which runs from about 200 kilometres north of Longreach (where it is called the Thomson River) to Lake Eyre in South Australia. Much of the Cooper Creek consists of permanent waterholes. These can be as long as eight kilometres, almost 100 metres wide and 30 metres deep, even at the height of Summer and after years of drought. There are dozens of such waterholes, with many being in the area we will visit.
| | |
| --- | --- |
| | |
| Cooper Creek where we stopped for lunch | Wildflowers near the first time we saw Cooper Creek |
When I reorganised the trip, I decided to spend one night at Noccundra and then the next night at the Dig Tree. We miss out on staying at Noccundra but we will stay at the Dig Tree. The Dig Tree is where Burke and Wills had their major depot on their fateful journey to look for the "inland sea". It is located on Cooper Creek and is private property.
The Dig Tree site (which really should be a historic site or national park under the control of Queensland NPWS) is on Nappa Merrie Station. We arrive at the station at 3:52 pm and pay the $11 to enter the site. This also lets you camp alongside the Cooper Creek.
We decide to have a look around before deciding on a camp site.
As mentioned, Burke and Wills set up their depot camp here. Robert O'Hara Burke and William John Wills set off from Melbourne on 20 August 1860 bound for the Gulf of Carpentaria (the huge bay between Cape York and Arnhem Land). They had 17 men with them and enough food for two years. Travelling via Menindee in NSW, they arrived at Cooper Creek on 11 November 1860 and established Camp LXIII (Camp 63). Here they established a depot. However, rats forced them to move a bit further south and they set up Camp LXV (Camp 65) next to Bullah Bullah Waterhole.
A large fuel road train passes us on
very muddy section of the road before Cooper Creek
The small museum/visitor centre at the Dig Tree
On 16 December 1860, Burke, Wills, John King and Charles Gray departed for the -north. On 9 February 1861 they reached Little Bynoe River. They came across a mangrove swamp. Burke and Wills attempted to travel through the mangroves but gave up after about 24 kilometres. The mangroves blocked further progress to the sea. It is estimated that they were only a few kilometres short of the open sea.
They turned back and headed for Camp LXV. On the way, Gray died. Burke had told William Brahe, who was left in charge of Camp LXV, to wait 13 weeks for them to return from north before they should return to Melbourne. Brahe waited for 18 weeks and when Burke and Wills still had not returned, they left Cooper Creek on the morning of 21 April 1861.
Before leaving, Brahe buried a cache of food and supplies. He could not mark the location of this as Aboriginals would have discovered it and dug it up. Instead, Brahe marked a coolibah tree with an inscription. This was something like "Dig 40 feet NE", the exact inscription now not been known and also not visible on the tree, the bark having grown over the spot it was cut into the tree. On the other side of this tree there is the marker for the camp. This is still partially visible, with B (for Burke) over LXV. There was also an inscription of the arrival and departure dates, but again, this is no longer visible.
Burke, Wills and King arrived back at Camp LXV in the afternoon of 21 April 1861, about nine hours after Brahe left. They found the cache of supplies and dug them up. From this they discovered that the main party was less than one day ahead of them. However, they were so exhausted they could not set out after Brahe.
The Dig Tree
The engraving on the Dig Tree
- you can see LXV, with the X very prominent
Burke and Wills eventually worked their way down Cooper Creek with the aim of getting to Mount Hopeless (which we will visit in about three weeks). However, they do not get far. Meanwhile, Brahe returned to Cooper Creek with William Wright who had been sent back to Menindee much earlier to collect additional supplies. They arrived at Camp LXV on 8 May 1861. They did not notice that Burke, Wills and King had dug up the supplies so they left again.
Burke, Wills and King returned to Cooper Creek and at the end of May 1861, Burke buried his journal at the Dig Tree. Both Burke and Wills died towards the end of June 1861 and King was taken in by Aboriginals.
Four relief parties set out to find Burke, Wills and King. One, led by Alfred Howitt, arrived at Cooper Creek on 11 September 1861. Four days later he found King, still alive.
Today Burke's grave is at Burkes Waterhole and Wills's grave is on Breerily Waterhole. Both bodies were recovered in late 1862 and they were given a State funeral in Melbourne on 21 January 1863.
So, as you can see, this is a very historic place for the exploration of early white Australia. We are here almost 150 years to the day that the expedition set off from Melbourne.
| | |
| --- | --- |
| | |
| The face of burke engraved into another tree near the Dig Tree | Our camp site next to Cooper Creek at the Dig Tree |
We have a look around the site and examine the small information centre.
We decide to camp at the far end of the waterhole and set up camp only metres from the water's edge. As we have not collected any timber for the fire, Kelly and I go out of the camping area and cut some fallen timber from the side of the road. We set up the Shippshape and then spend the rest of the afternoon walking the banks of the waterhole and looking at the thousands of birds that are resident here. There are hawks, budgies, willy wag tails, pacific herons, little pied cormorants, spoonbills, swallows, ducks, pelicans and more. It is an amazing sight at sunset when the birds all seem to be flying home to their overnight homes.
| | |
| --- | --- |
| | |
| Cooper Creek down from our camp site at the Dig Tree | A hawk at our camp site next to Cooper Creek, the Dig Tree |
Kelly and I have hot showers using the shower in the car (a Twine). As normal, we have nibblies and drinks at 5 pm and then dinner of chicken and cashews. It got very windy after sunset and we had to put extra pegs in. We went to bed at 9 pm and read for a while.
Weather: Fine, maximum 22ÂșC Arrived: Dig Tree, Cooper Creek Time: 3:52 pm Distance: 374 kilometres
Day 4 - Tuesday 10 August 2010 - Dig Tree to Mulgerra Creek
Weather: 13ÂșC and sunny but windy
Note: Although part of this day and the next were spent in South Australia, the times recorded are Queensland time, that is, 30 minutes ahead of South Australian time.
It rained for about 10 minutes during the night at about midnight. Luckily it has cleared up and is sunny. Today we travel even less than yesterday. We only have to go about 50 kilometres to our next camp site, but in reality we plan to drive a bit more as we want to explore some of the Cooper Creek and visit Burke and Wills's graves as well as the site where King was found. However, as you will see, things do not go to plan.
| | |
| --- | --- |
| | |
| Sunrise at Cooper Creek | The sunrise lights up a river red gum on Cooper Creek |
Accordingly, we have a late rise and a late departure. After we have breakfast, Kelly and I walk back to the Dig Tree for another look. We leave at 10:12 am. We travel via the Nappa Merrie Bridge and the southern access road to Innamincka. This road was closed as recently as 31 July 2010 due to the 12 to 20 mm of rain that fell on 26 and 27 July 2010.
We go to Innamincka, arriving at 11:35 am. We find out here that the road north out of town towards Birdsville is still closed so we will need to use another route. More problematic is the fact that the camping areas in the Innamincka Regional Reserve are ALL closed. Bugger! I am sure that when I checked back in Sydney there was no mention of these closures.
Sunrise on our car at Cooper Creek
Kelly and I on top of some rocks alongside
the road from Nappa Merrie to Innamincka
We check out the National Parks visitor centre only to find it is not staffed. In fact, the only information there is over three weeks out of date and the local copper tells us they have not been there for a month. Hopeless! She also says there is camping at the town common but Kelly and I are not happy with what we find. As there is a lot of water around, there are only a limited number of spots.
We come back to town and the others all have showers in the free toilet/shower complex opposite the pub. We refuel (88.6 litres @$1.809 = $160.31) and then have lunch in the Innamincka Hotel. I have an OBE burger and chips ($18) and a beer ($6.50 a schooner of Pale Ale). We decide to push on, using the northern flood by-pass road.
| | |
| --- | --- |
| | |
| The Innamincka Hotel | Birds at the Cooper Creek causeway, Innamincka |
At 1:40 pm we head north out of town to the main airstrip (there are two, a smaller one closer to the pub) and turn right here (sign-posted Nappa Merrie Bridge). This road is quite good, with very spectacular views of some hills. Our plan is to get to the road in Queensland and head north till we find a camping spot. However, once again fate will intervene.
| | |
| --- | --- |
| | |
| Kelly and the Prado on the Innamincka Flood By Pass | A spectacular hill beside the Innamincka Flood By Pass |
At 2:46 pm, Kelly and I hear talk on the UHF radio. We hear "they are down". This is from Peter F. We soon ascertain that Peter T has had an accident. We turn around and are back at the site within a few minutes. The troopie is lying on its right hand side in a creek bed. The creek is called Mulgerra Creek and flows south into the Cooper Creek. Keith (4 years) is out but Melanie (9 years) and Peter are still inside. They are not hurt, but cannot get out due to the orientation of the car and things that have fallen on them.
We soon have them out and they do not have a scratch or bruise. It looks like Peter came into the left hander into the creek bed a bit fast and hit the brakes. This locked the left front wheel which sent them sideways a bit and the right front wheel dug into the soft sand on the edge of the water, causing the car to flop over. The two Peters and Tomas remove a lot of the stuff from the back to make it lighter while Kelly comforts the kids who are understandably a bit shaken up. Meanwhile, I get the bits and pieces out of my car for the winch so we can right the troopie.
Peter T's troopie and the creek
Another shot of the wounded troopie
The skid marks are clearly visible
I manoeuvre the Prado into place and using a tree protector and snatch block, set up a double pull winch cable back to the Prado. Once we have a lot of the gear out of the troopie, we start the winching. At first the troopie is just pulled along on its side and then the right hand wheels dig into the soft sand. Then the Prado is pulled forward but it also digs in. The troopie finally starts to come up and it slowly flops over back onto its wheels.
There is remarkably little damage visible, just a broken driver's side mirror, some dents on the right rear. In addition, the solar panels have come free in spots and some of the latches holding the pop-top have broken off. The car starts but as it has been on its side, the engine oil has certainly got into parts it should not be.
| | |
| --- | --- |
| | |
| Winching the troopie back to its wheels | Starting to right itself |
| | |
| Almost there! | Upright!! |
| Photographs by Peter Flockart | |
We decide to camp, so at 3:15 pm Kelly and I scout ahead for a few kilometres to see if there is a better spot as it is very windy. We decide to camp where we are on the south-western side of the creek. It is not a bad spot and is a bit protected from the westerly. At 3:30 pm we decided to camp at "Peter's Peril Creek" as we come to call it. It is about 4:20 pm by the time the troopie can be moved after Peter T and Tomas do some running repairs and we have actually set up camp. We also then set about moving all the gear removed from Peter T's troopie over the creek to the campsite.
Peter T and Tomas do more repairs and fix the pop-up and solar panels and most other things.
| | |
| --- | --- |
| | |
| Our camp site at Mulgerra Creek | Sunset over Mulgerra Creek |
I get a fire going and we soon have some beers and nibblies to get over the troubles of the past couple of hours. We are cooking a roast beef and veg dinner so we need to get some good coals. The timber out here is excellent for camp ovens, the coals are so hot and last forever. It takes about 50 minutes to cook the beef and, as normal, it is great.
At 8 pm we hear a noise and then see lights. A truck is coming along from the direction of Innamincka. It is going slowly as the road is not the best for big vehicles. Soon, a triple trailer road train comes into sight and slowly crosses the creek bed. He toots his horn as he passes.
After the truck passes we watch the stars for a while, they are really bright and we see some satellites and shooting stars. We go to bed at 9:30 pm and read till 10 pm. I am glad that this day is over and we came out of it as well as we did.
Weather: 16ÂșC and fine Arrived: Mulgerra Creek Time: 2:46 pm Distance: 150 kilometres
Fuel: 88.63 litres Cost: $160.31 Economy:13.6 litres per 100 kilometres
Day 5 - Wednesday 11 August 2010 - Mulgerra Creek to Birdsville
Weather: 7.0ÂșC and fine
Today we have reasonable distance to travel, with some of it potentially on roads that are in a poor condition. The most direct route from Innamincka to Birdsville is via Cordello Downs station, that is, within South Australia. This road was mostly closed after the early 2010 floods till mid-June 2010 when it reopened. Innamincka had 260 mm of rain in February 2010, more than the average for a whole year. However, about 11 or 12 July 2010 another 75 mm fell. The road closed and was partly reopened about 26 July 2010 for the section from the (western) Queensland border towards Birdsville. However, as I indicated in yesterday's diary, the road was still closed when we were in Innamincka yesterday.
Our camp site at Mulgerra Creek at sunrise
The sign at the intersection of the flood
by-pass road and the road north
Accordingly, we are up at 7 am and after a quick breakfast, we depart Mulgerra Creek at 8:32 am. I have told Peter T that he needs to get his troopie checked out after he tipped it on its side last evening. He will travel to Thargomindah where there is a Toyota dealer and depending on what happens, catch up with us later, probably in Alice Springs. The car appears to be okay, but needs to be checked as we are heading into much more remote areas.
As we discovered yesterday, the road from Innamincka north to the Queensland border at Arrabury is still closed, just as it was when we left Sydney. We have to head back into Queensland near Nappa Merrie and then head north. We are almost at this road and at 8:45 am we arrive at the intersection. Peter T turns right and heads back towards the main road at Nappa Merrie. We turn left and head north. A short distance along we climb up a plateau to 200 metres. This is fairly spectacular.
| | |
| --- | --- |
| | |
| The road in Queensland heading north from Nappa Merrie | Some stones at our morning tea on the Cordello Downs Road |
The road condition varies a lot, some parts are very good, some bits okay and other bits not so good. Once we cross into Barcoo Shire the road improves 1000% (says Kelly). The last 40 kilometres runs between sand dunes, occasionally crossing over to the next one. We arrive at Arrabury at 10:15 am, having travelled 98 kilometres in 105 minutes (average 56 km/h). We turn left and go back into South Australia and take the road to Cordello Downs station.
We stop for morning tea at 10:25 am next to a very large red sand dune. We are back on the road at 10:40 am. This road is in a bit better condition, as it was graded in June and July and has not had as much rain fall since as the roads further south. We are passed by four tractors. These are on a tour and some are towing caravans. I have heard about these tractor tours before. The land is flat with beautiful grassy looking meadows in between red sand dunes. Another three tractors pass us about 10 kilometres on.
| | |
| --- | --- |
| | |
| One of the tractors on the Cordello Downs Road | The Cordello Downs Shearing Shed |
At 11:30 am we stop for a short time to look at the Cordello Downs shearing shed. This is no longer used, but it was once the largest shearing shed in Australia. It is also of a strange design, unlike any other I have ever seen. It was built in 1883 of local stone. The shearing stopped in 1942 when the station changed to cattle. There is also an interesting steam engine made by James Hooker of Kilkenny, Ireland and and old Ford truck.
We head off at 11:50 am and continue north. The road remains similar to the previous section with lots of creek crossings and detours around water across the road. We do not see any cars and at 1:30 pm (89 kilometres) we come to Cadelga Outstation where we stop for lunch (average speed 53 km/h). This is on a nice waterhole. The outstation is now just a ruin, with only the remains of the old house still standing and and old car nearby. There are two other cars here also having lunch.
| | |
| --- | --- |
| | |
| The Cadelga Ruins | A door inside the Cadelga Ruins |
| | |
| The famous car at Cadelga Ruins | A windmill at the Cadelga Ruins |
We are back on the road at 2:15 pm. The road gets better once we cross into Queensland. It is a short run (38 kilometres and 2:45 pm) to the Birdsville Developmental Road and once on this, the kilometres pass a lot quicker as we sit on our normal 80 km/h. There are some small sections of tar. We pass a number of lakes, Cooninnie, Moonda and Opp all with water.
We arrive in Birdsville at 4:15 pm (80 km/h average exact). We book into the caravan park ($10 per person) and check out the laundry. We need to do some washing, so the sooner we get it on the better. The machines are not the best, with water so slow entering the machine you need to use a bucket to cut the time down.
| | |
| --- | --- |
| | |
| In the Birdsville caravan park | The Birdsville Hotel |
We are eating tonight at the Birdsville Hotel, so we do not have to unpack any cooking gear and only need our chairs. Of course, this is our first opportunity to have a good shower, so we take turns to head off, with someone watching the washing.
At 6 pm we walk to the hotel. We have a couple of beers in the bar ($6.50 a schooner) before heading into the restaurant. We have a nice meal. I had kangaroo which was excellent. The cost was $120 for four.
After dinner we have a few more drinks in the main bar of the hotel before walking back to the caravan park and finishing off the clothes drying. We go to bed at 10:30 pm.
Weather: 18ÂșC and fine Arrived: Birdsville Time: 4:15 pm Distance: 396 kilometres
Fuel: 73.5 litres Cost: $108.00 Economy:15.4 litres per 100 kilometres
For the next part of this trip, click here.