For our short break over the Christmas 2010 to New Year 2011 period, Kelly and I decided to do a trip along the Murray River. The Murray is, as most people would know, the longest river in Australia, 2,375 kilometres (or 2, 756 kilometres from other sources) from headwaters to the ocean. It is the border between New South Wales and Victoria for most of its length and starts in the Kosciuszko area. It is the 16th longest river in the world and the third longest navigable river in the world (after the Amazon and Nile Rivers).

We had only ever seen the Murray as we crossed it at Albury on the way to Melbourne and the Victorian High Country and at Tom Groggin in the Victorian High Country and Kosciuszko National Park.

Our plan was to start at the Upper Murray and move downstream to Echuca before heading back across the bottom of inland NSW to Sydney.

However, once again fate intervened in our plans. On 15 October 2010 a huge storm dropped an enormous amount of rain in the area from Goulburn in NSW to the Victorian High Country. This rain continued for a few days and ended up being so much that it caused flooding in the creeks and rivers in the whole area. In Victoria, many bridges and roads were washed away in the state forests and national parks. All this water then flowed into the Murray and caused it to flood. As of Christmas, the flooding had abated but the water still filled lower lying areas. For example, all the billabongs and old riverbeds of the Murray were filled as were smaller wetlands.

Downstream from Albury, every camping area was still closed and above Albury, the ones closest to the Hume Dam were either closed or mostly closed.

Therefore, we decided to do the first part of the trip and then once we had a better idea of the conditions, we would plan the next part. Also, as we were taking our dog, Veto, with us, we were limited as to where we could stay (eg no national parks).

ROUTE MAP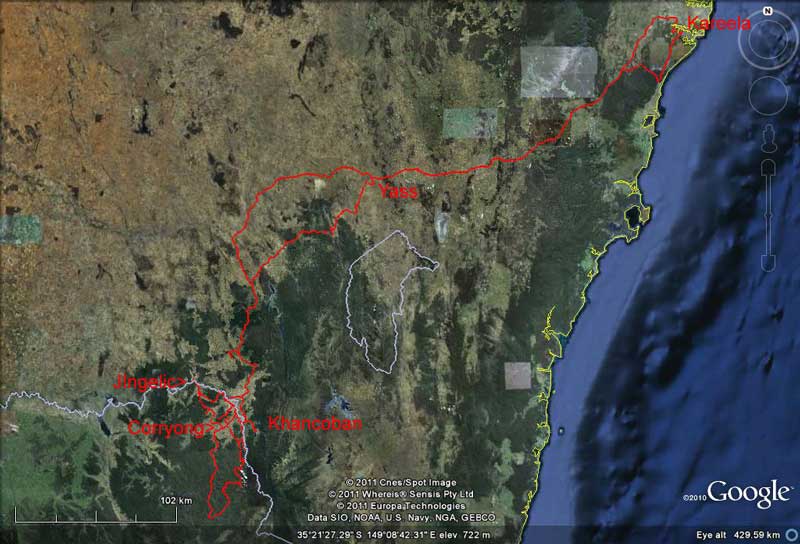 Our route as recorded by our GPS using OziExplorer and uploaded to Google Earth
GPS TRACKS
You can download the Google Earth track of this trip by clicking here and looking at it in Google Earth.
You can download the OziExplorer track of this trip by clicking here and looking at it in OziExplorer.
Day 1 - Sunday 26 December 2010 - Sydney to Indi Bridge/Biggara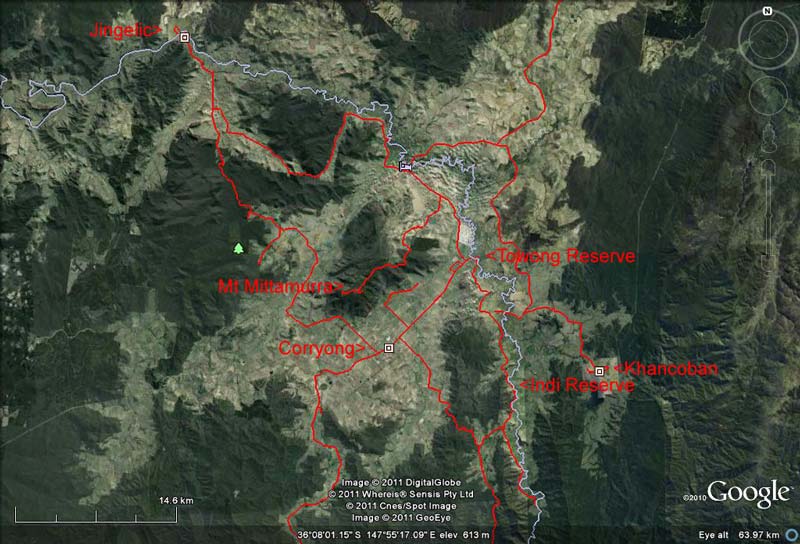 This is the northern part of our travels around the Murray River area
We left home at 7:10 am in rain. We headed south along the Princes Highway/F6 to Bulli Tops and then via Appin Road to the Hume Highway. At 9 am we stopped at Marulan to buy something we had forgotten to take (toilet paper!) and a wee stop for Veto and Kelly. We were back on the road after 10 minutes. The rain had now stopped but it was still overcast.
At 10:07 am we stopped at the Mundoonan Rest Area. This is 250 kilometres from home and located near Gunning. There was a driver reviver here (free tea/coffee/biscuits) so we had morning tea as well as a toilet break (feral toilets Kelly said - we have since stayed here and they have been better). We leave at 10:30 am with Kelly now driving. The temperature is 22ÂșC.
| | |
| --- | --- |
| | |
| Adelong Falls Gold Mill Ruins | Reedy Creek Park, Batlow |
At 11:20 am Kelly decides to detour via Jugiong which is just off the highway. It is a place that holds both fond and not so fond memories (click here to read why). The Murrumbidgee River here is flooding the lower parts of the town common as excess water is released from Burrinjuck Dam a few kilometres upstream. Not a great deal has changed since we stayed here (involuntarily) back in 2004. We are back on the highway a few minutes later.
The sun is now shining a bit and the temperature up to 28ÂșC. Things are looking better (we have a reputation for bringing rain to a place when we going camping). At 11:50 am we turn off the Hume onto Tumblong Road. From here we plan to head via Adelong and Batlow to Tumbarumba.
We arrive at the Adelong Falls Gold Mill Ruins at 12:15 pm. This is just before Adelong. I visited here in 2003 when on a day off from fighting the huge Kosciuszko National Park bushfires. There is a great new viewing platform built in 2009 as part of the Federal government's stimulus package. However, the floods of 15 October 2010 have damaged the walkways and these are all closed. A pity as it is very interesting to walk around the ruins.
We leave at 12:35 pm and at 1:05 pm we stop at Reedy Creek Park, Batlow. This is on the right as you come into town. It is the site of the district's first Olympic sized swimming pool which was built there in 1934. It is not clear when it was demolished, although you can see what appears to be remnants. We have lunch in the nice park and leave at 1:30 pm.
At 2 pm we arrive in Tumbarumba and we stop for a middy of beer at the end pub. We leave at 2:15 pm. It is now 30ÂșC. We pass a couple of nice looking camping areas, the first is called Henry Angel Reserve and the second Paddy River Reserve. Check out the last part of this report about these places.
| | |
| --- | --- |
| | |
| The Southern Cloud Memorial | Khancoban Dam spillway |
At 2:40 pm we stop at a rest area. This is the Southern Cloud Memorial. The Southern Cloud was an Australian National Airlines (ANA - later part of Ansett ANA) plane. It was a three engined Avro 618 Ten passenger plane used by ANA to fly between Sydney and Melbourne (primarily). On 21 March 1931 it crashed in Kosciuszko National Park killing all on board. It was not discovered till 26 October 1958. The place was found to the east of the memorial, although you cannot see the site as it is over a couple of hills. There is a very good display about the accident here as well as a nice picnic area.
We pass through Tooma shortly after (nice looking pub but closed from memory) and then head via Warbook and Greg Greg (nothing at either place) to Khancoban. We get there at 3:20 pm and have a quick look around. As it is Boxing Day, everything is closed of course.
We go to the Khancoban Dam and then to the spillway below. There is a huge amount of water coming out into the Swampy Plain River which then flows into the Murray River.
We cross the Murray River into Victoria at the Bringenbrong Bridge. We turn south along the Upper Murray Road and at 4:05 pm we arrived at Indi Bridge Reserve. The reserve is on a bend in the Murray River at the intersection of the road that leads over the Indi Bridge back into NSW. The reserve has a flat grassed area alongside the river with a few trees at the western end and the southern end.
| | |
| --- | --- |
| | |
| The Indi Bridge Reserve camp site | Veto venturing into the water at Indi Bridge |
There are quite a few vehicles here, but most appear to be day trippers as they have no tents. We pick out a spot close to a group who we figure will leave soon. We park and open our ShippShape tent. The river has a rocky beach and is flowing very strongly. The river is full to the brim and you can see how high it was in the floods.
We decide to have a swim as it is still very warm in the sun. The river is quite cool, but once you are under it is okay. Veto decides to have a swim by herself, a first for her. Sure enough, the vehicles closest to us leave a little while later and there are only three other groups here now. There are some tents to the west, two motorhomes (Dutch tourists and their Dutch-Australian relatives) and another motor home to the south. The Dutch-Australian bloke tells me they got a great map from the information centre in Corryong that shows free camp sites for the whole area.
We did not cut firewood on the way but there is no need as there is a huge amount of timber washed up on the shore from the floods. We use this and although it burns well, it does not leave many coals.
As it looks like it may rain later, we set up the awning of the ShippShape. We sit and read for the rest of the afternoon, together with a couple more swims. As usual, at 5 pm we have drinks and nibblies. Kelly cooks chicken pesto pasta, one of my favourite meals. Later I start the fire as when the sun goes down behind the hills it gets quite cool.
We have a good view of the sky, with virtually no trees near us. There are lots of planes passing over, we are right on the Sydney to Melbourne flight path. Nearly every night for the next week we will see planes going to and from these cities.
Once it is dark, I kick the middle toe on my right foot against the shovel which I have stupidly left lying on the ground. It hurts a bit so I get a torch. Yuck, I have totally ripped off the toenail, it is hanging by a little bit at the end and there is blood everywhere. I push it back on and Kelly nurses me. As I write this two weeks later, the toenail has seemed to reattach itself and has not yet fallen off.
We go to bed at 10:30 pm and just as we do, the wind blows up a lot. It is so windy Kelly has to change the awning into its normal "wall" setup to stop it flapping as much. The wind only lasts an hour or so.
Weather: Rain till 9 am then overcast till noon and then sunny, max 30C ÂșArrived: Indi Bridge Time: 4:05 pm Distance: 583 kilometres
Day 2 - Monday 27 December 2010 - Indi Bridge to Towong
Weather: Fine, 11.2ÂșC minimum
It was a bit cooler than we have planned for so we needed to huddle up a bit. We will need to add some more coverings to the blanket for tomorrow. We are up at 8:30 am. As we are not moving far each day on this trip, there is no need to be up early and leave early. We can really relax on this trip.
Once up, I notice that the new Engel fridge (replacing our over 20 year old one) is warm. The plug has come out. I later do some modifications to attach the plugs using cable ties and it does not come out again. After breakfast, we leave at 10:18 am. It is now a nice 22ÂșC. We drive further down the Upper Murray Road towards Biggara.
Biggara consist of nothing, at least that we can see. It is just a locality (I tell a lie, I think there was a hall and tennis court). We go as far as we can along the road as I have read on the internet that there is a Biggara Reserve where you can camp. However, we see nothing, although right at the end there was a possible camp site but the grass was too long. At the end of the road where it crosses over the Murray River again into private property, we turn around. It is 11 kilometres from Indi Bridge to here.
On the way back we turn left at Bunroy Road as we plan to have a look down that way. Our map shows that you can drive across to Corryong to the information centre and get a copy of the map. We have already decided that we will not be able to stay at many of the places we originally planned to so we need alternatives.
Three kilometres down this road we see McCormack Gap Track. This is a 4WD track rather than a normal road like our map seems to indicate. We take this and have an interesting trip. It is a good climb, from 440 metres up to about 720 metres. I use second gear without locking the centre diff all the way on a good track. At a pinch a normal car could do it.
It is 4.5 kilometres to McCormack Gap (the highest point on the track). We get there at 11:05 am and decide to stop for morning tea. At this spot there is a cross intersection with Elliot Ridge Track and also Schintlers Track goes off to the north. We are back on the way at 11:17 am.
We continue on the track. Eventually it comes out of the forested area (state forest I presume) and into an open paddock. We have to open a gate and then the track goes through private property. We cross the paddock until we see the track leaving the property and becoming a normal road on a dedicated road reserve.
McCormack Gap
The Man from Snowy River statue
next to the information centre in Corryong
Eventually McCormack Gap Track comes out onto Thowgla Road and we follow this to Thowgla (a locality) and then via Back Thowgla Road to Corryong. Corryong is the main town in this part of Victoria. It has a reasonable supermarket (with a small bottle shop), some pubs, banks etc. We find the information centre at the south-western end of the central business district. It is now 11:50 am. Kelly goes in and comes back with a bunch of brochures and maps. One is the very good Towong Shire Pure Attraction map. It has heaps of free camping areas marked, as well as lots of tracks.
We leave at 12:10 pm and decided to go to Towong Reserve. This is located back in NSW, just over the Towong Bridge. It is only 13 kilometres there. We pass through Towong, which only has a racecourse and no other attractions. The Towong Reserve is managed by Tumbarumba Shire Council, one of a number they have (more about these in the next article).
| | |
| --- | --- |
| | |
| Our camp site at Towong Reserve | The Murray River next to Towong Reserve |
As mentioned, the reserve is in NSW and on the banks of the Murray River. We drive right along the whole section of reserve which is about 400 metres long. There are quite a few people camped here, but it is not too crowded. As we head back towards the bridge, I notice that there are three vehicles with a lot of people but they appear to be leaving. I go and ask and sure enough, they are just loading their canoes onto their vehicles as they have just come down the river from the previous bridge.
They leave at 12:30 pm so we move our car into a nice spot next to the river. We decide to have lunch and then make a decision as to whether we will camp here or move to somewhere else. We read for a while after lunch and decide that this is a good spot to stay. As I have to get firewood, we do not set up camp yet.
Later, I drive around looking for firewood and end up next to the Towong Racecourse. Here I cut some timber for tonight's fire. Once back at the reserve, we set up camp fully.
The Murray River here is much wider and flowing much stronger than at Indi Bridge. This is because the Swampy Plain River (the water from Khancoban Dam) has entered the Murray between the two locations. We decide that it is not a wise place to have a swim.
| | |
| --- | --- |
| | |
| Me with Veto | Kelly on our walk at Towong |
At 4:15 pm hundreds of corellas come flying in and land in the trees near use. What a racket! They make a lot of noise and also shit all over the place. We cop a few on our table and chairs, but luckily not on us. They hang around for about an hour or so.
I set up the Twine hot water shower and tent and we both have a nice warm shower. It is good to clean off the grime from the past two days. At 5 pm we have the regulation nibblies and drinks.
We are having a barbecue tonight, so I get the fire going at about 6 pm. I cook some huge T-bone steaks and sausages and Kelly makes a salad. Very nice indeed. After dinner we go for a walk along Towong Hill Road. This is the road in Victoria at the bridge that heads south. There are lots of fruit trees along the side of the road, cherries, Granny Smith apples and cumquats. The apples do not taste the best but the cumquats do. I collect a couple of hand fulls (well pocket fulls) for later use.
We read till 10 pm and then go to bed, reading some more till 10:30 pm.
Weather: Fine, max of 29ÂșC Arrived: Towong ReserveTime: 12:20 pm Distance: 55 kilometres
Day 3 - Tuesday 28 December 2010 - Towong Reserve to Clarkes Lagoon Wildlife Reserve, Tintildra
Weather: minimum of 8.9ÂșC and fine
It was even colder last night and we needed to put on some more clothes when in bed. We should have brought another sleeping bag to use as a doona. The cows in the paddocks nearby were very noisy last night. Several times they awoke us with their mooing. I wonder what was upsetting them?
We have breakfast and then leave at 10:25 am. We head back over the Murray River into Victoria and towards Corryong. We have decided to try and go to Mount Mittamatite. This is in Mount Mittamatite Regional Park and our new map shows an access via the Corryong side.
We head to Kiells Lane which then at the end becomes Kiells Lane Track. When we get to the end, what appears to be the track goes through a very muddy bog. There is no way around, as all the land is very wet. We decide it is not worth the effort to go this way. However, once I got home and downloaded the track from our GPS, I think that the actual track came off the lane a little before the end. Oh well.
We go back to Towong and then along River Road towards Tintildra. At 11:05 am we stop at Farrans Lookout which gives nice 270Âș views over the whole valley. At 11:08 am we turn onto Ranch Road which is well signposted for the mountain.

A panoramic photograph from the Emery Lookout, Mount Mittamatite
It takes 37 minutes to get to Mount Mittamatite, 14 kilometres. It is a reasonable track, but 2WDs will find some bits hard due to ruts. At the top of the mountain (1006 metres) there is an aircraft beacon (hence why so many planes fly overhead). There is supposed to be a picnic area here but we did not find it, even though there is a sign. It may have been further down the track which ends up at a dead end. There are also a number of communication aerials here as well.
We head back a little and take the track to Emery Lookout (928 metres). This is only two kilometres from the peak of the mountain. There is a picnic table and BBQ in the parking area and it is quite flat. There are no signs saying you cannot camp here, it would be a nice place to stay. Three or four cars could fit here when camping. We walk the few dozen metres to the lookout. What a view. You can see all the way from past Towong to well south of Corryong. The airport is down below and we hear a light aircraft take-off.
| | |
| --- | --- |
| | |
| The Emery Lookout picnic area on Mount Mittamatite | On the way back down from Mount Mittamatite |
We have morning tea here and also collect some timber for tonight's fire. There is so much dead timber around. It is warming up and when we leave at 12:37 pm it is 26ÂșC. We get back on the main road at 13:18 pm amd head towards Tintildra. We stop here at 1:23 pm and have a beer in the Tintildra Hotel. This was built in 1870 as "The Pet Lamb" and is still fairly original overall.
It is nice sitting out on the verandah under the shade sipping our "pot" of Carlton Draught. Tintildra also has an historic store and some other interesting buildings. There is a great old Caltex service station sign next to the pub that I am sure some collector would love.
| | |
| --- | --- |
| | |
| The Tintildra Hotel | An old Caltex Sign next to the hotel |
We leave at 1:50 pm and head towards Walwa. Seven kilometres along we come to Clarkes Lagoon Wildlife Reserve. I am pretty sure that this was established for duck hunting purposes, as my topographical map has "(hunting)" after the name of the reserve. There are no signs prohibiting pets, so we drive in and at first come to a track blocked by a large fallen tree. We go the other way and find only one other vehicle with a caravan here. There are not many spots where you can camp as there is so much water in the lower lying areas.
We drive right to the fallen tree (the road is a loop) and then back track to a nice flat and grassed area. We decide to at least have lunch here. However, first Kelly tosses a couple of large yellow belly fish (also called golden perch or more correctly known as callop) into the water. They have ended up stranded on the shore when the water level dropped and died and now smell a fair bit. After lunch we decide to stay here for the night. It is quite warm and there are a lot of flies around, so Kelly erects our small fly-proof cabana. We need to put up a bit of tarp on the side of the cabana to give more shade.
We read for the afternoon. The river here is flowing strongly and is a bit wider than at Towong. We decide not to swim as there is no suitably safe spot to swim. A few cars come in but most leave. One car decides to stay between us and the caravan while another gets bogged when turning around at the fallen tree. After a few minutes when it is still not out, I walk up the track to see if they need help but before I get there they have extracted themselves using their winch. They end up camping between us and the other new car. Both of these cars have ARB type roof-top tents.
| | |
| --- | --- |
| | |
| Our camp site at Clarkes Lagoon | The Murray River at Clarkes Lagoon |
We are having roast chicken and vegies for dinner, so I start the fire early. We have drinks and nibblies and finally I put the chicken on. The sun has now gone behind the trees so I move the Prado from the shade to where we want to camp the night.
It takes a little longer than normal to cook the chicken as the timber is not great and does not give good coals. The Woolworths marinated and stuff chickens are really nice and the perfect size for our camp oven. We have enough left over for some lunches, four people could get a meal from one chicken.
After dinner, we take Veto for a walk around the reserve and then I make pancakes. Earlier, I had boiled up the cumquats that I collected last night on our walk. I add a bit of sugar as they are quite bitter without. Added to the pancakes and with a dollop of cream they are great.
We watch the sky and see four satellites and three shooting stars. We go to bed at 10:15 pm and read for 15 minutes before going to sleep.
Weather: Fine, maximum of 29ÂșC Arrived: Clarkes Lagoon Wildlife ReserveTime: 2:00 pm Distance: 95 kilometres
Day 4 - Wednesday 29 December 2010 - Clarkes Lagoon Wildlife Reserve, Tintildra to Jingellic Reserve
Weather: minimum of 13.2ÂșC and fine
It was a lot warmer overnight, more than 3ÂșC higher than last night. We are parked in the sun and by 8 am my weather station in the ShippShape is showing the outside temperature has reached 18ÂșC. By 8:15 am we get up as it is getting too hot to stay in the tent.
We have breakfast and read for a while before packing up. We leave at 10:30 am. We have decided to try out a couple of back roads to see if there are any camp sites along them. Six kilometres from Clarkes we turn onto Pine Mountain Creek Track. As we stop to open a gate, we encounter a dog trapper who tells us the road ahead is muddy in one spot but should be okay. There are other track leading off from the gate and these could be worth an explore.
| | |
| --- | --- |
| | |
| Our dirty Prado after the mud bath | The main street of Walwa, store at left |
We let him go first but he stops before the muddy section. Yes, it is very muddy. I drive through and the 20 metres has us slipping and sliding a bit. We make it though okay. We are now in what appears to be state forest. We stop here for morning tea and to collect some timber. We are back underway after 20 minutes (at 11:25 pm). The track eventually comes onto Sandy Creek Road and then onto Cudgewa Bluff Road. We arrive in Walwa at 11:50 am.
We stop in the town as Kelly wants to get some things from the small general store and I get a newspaper to read. There are very nice toilets here as well as a small park with tables. We leave at 12:10 pm. Note that when we were there, the general store had no petrol at all and did not appear that it had had any for quite some time. There may have been diesel. There is also a hotel that did not appear to be open (it may have been, but it looked closed).
We head to Jingelic. As we approach, I do not see any sign showing the Jingelic Reserve. We cross over the Murray River yet again and back in NSW, go to the town of Jingelic. To call it a town is a bit of an exaggeration. It is a pub, that is all.
| | |
| --- | --- |
| | |
| Jingelic Hotel | Kelly in the beer garden of the Jingelic Hotel |
We park in the shade of the huge trees just down from the Jingelic Hotel which was built in 1925. There is quite a crowd here and we decide that we will have lunch here as there is a pretty good menu. There is a very nice beer garden that has shade and looks over the camping area below.
Kelly and I both order a hamburger and chips and a schooner of beer. The hamburger ($10) is quite good and the beer very good! After lunch, we walk around the camping area. This is a reserve (perhaps also called Jingelic Reserve like the Victorian one) under the control of Tumbarumba Shire Council. It is not a bad spot, but today there are too many people here for us to consider staying here.
| | |
| --- | --- |
| | |
| The NSW Jingelic Reserve | Kelly at the boat ramp in the NSW Jingelic Reserve |
We leave at 1:05 pm and drive back across the bridge into Victoria. We head back towards Walwa and take Nursery Lane on the left which is the street that leads to the golf club. We go past the club house and across one of the fairways and, sure enough, there is a sign for the Jingelic Reserve. We go in and find a couple of smallish flat areas where we can camp.
We decide to stop and have swim in the river as there is good access to the water from this spot. Once again Veto decides to go into the water herself, she has never done this before the trip. The water is generally very shallow close to shore and where it is deeper, it is running very quickly. We stick close to the shallow bits, lying down to get wet. Again, it is quite cool.
| | |
| --- | --- |
| | |
| Our camp site in the Victorian Jingelic Reserve | Pippa the motorcycling dog |
After reading for a while, we decide to stay the night here. We have some more swims as it is a hot day. A few cars come and go, including a farmer from near Albury and his kids who have a swim and fish. They are staying in the caravan park at Walwa.
We have drinks and nibblies a little later than normal at 5:30 pm and just after 6 pm three blokes on BMW touring motorbikes come in looking for a camp site. One of them, Stuart, has his dog Pippa riding in a basket on the back of the dog. She even has her own goggles and ear plugs! The other blokes are Phil (from Melbourne) and Andy. I think Stu and Andy were both from Kangaroo Valley.
After a lot of looking around, they camp on the only flat and dry area left which is not too far from us. They reckon they might be noisy but they are a quite quiet bunch. How much wine can you carry on a motorbike? Andy pulls out all sorts of nibblies and food and they cook steaks and vegies on the fire they make.
Meanwhile, Kelly cooks some pork chops and vegies and serves with her mustard sauce. Beautiful! After dinner we take Veto for a walk along the golf course. We notice that you could also camp at the far eastern end of the reserve, accessing this area via the edge of the fairway.
Back at camp we watch the stars. Tonight we see the most satellites and shooting stars we have seen for three years. We see 11 satellites and 3 shooting stars. We go to bed at 10:20 pm and read for a while.
Weather: Fine, maximum of 28ÂșC Arrived: Jingelic ReserveTime: 1:10 pm Distance: 39 kilometres
For the next part of this trip, click here.