My original plan for 2020 was to go to the Big Red Bash in Birdsville, Queensland, like I did in 2019. I was accepted as a volunteer however the concert was cancelled due to the Covid-19 pandemic. It was rescheduled to 2021 with the same line-up. My plan was to leave Sydney and travel via the Flinders Ranges in South Australia to Birdsville and then afterwards do a clockwise circuit of Queensland. The trip was planned for approximately six weeks, but as you will find out from reading the following, this changed dramatically.
Ray and Ida – motorhome – ended up meeting us in Eulo.

Also the plan was for John to meet us after Birdsville, but as the Covid situation went bad in Sydney, he was locked down and not permitted to leave Sydney.

In the few days before we left Sydney, a few cases of Covid appeared, all because a limo driver who was unvaccinated and not wearing protective gear caught it from the crew of a freight aircraft. He then spread it to heaps of people. When we left home, we had to have permits to enter Victoria and South Australia which we obtained before we left.

ROUTE MAP
My route as recorded from my Spot
Day 1 – Wednesday 23 June 2021 – Sydney to Carrathool
I get up at 5:30 am and have a shower as I have a reasonably long trip ahead and probably won't feel like one this evening. I load the last few things into the car and head off at 6:15 am. I travel via the Princes Highway and Appin Road over to the Hume Highway at Picton. It is overcast with rain forecast for later in the day.
I stop at the Exeter McDonalds at 7:35 am and get breakfast from McDonalds. I have arranged to meet Ron and Donna (from now on I will only refer to Ron when referring to both) here. They arrive at 7:55 am. We leave at 8:25 am and travel to Jugiong where we have morning tea at 10:25 am. This is 328 kilometres from home. It is fairly busy here. While we are here, we get an email telling us that our camping at Yanga NP for tomorrow night has been cancelled due to the rain that is coming. We leave at 10:50 am.
South of Gundagai we turn onto the Sturt Highway and head west. We travel via Wagga Wagaa and at 12:40 pm we stop at a rest area 8 km west of Collingullie, 480 km from home. We have lunch here. It is only 14ÂșC and very overcast. It starts raining 10 minutes after we arrive. It is light but consistent. We leave at 1:10 pm.
| | |
| --- | --- |
| | |
| The back of the car is almost loaded | Morning tea in Jugiong |
At 1:50 pm we stop at Narrandera for fuel, I take 69 litres at $1.439, meaning I used 12.6 litres/100 km. The rain radar shows that we are right on the edge of the rain here. Back on the road 10 minutes later, we arrive at our planned campsite at 3:15 pm. This is Carrathool Bridge on the Murrumbidgee River. However, it is raining much heavier since Narrandera and the campsite is very muddy.
We decide to go to the township of Carrathool for a look and to decide what we will do. We go to the toilet and then decide to go to the pub for a beer. While there we decide to get a room and stay here rather than camp, the rain has really set in. The only accommodation is in mining camp dongas out the back of the hotel and across the road. I get a single on with an ensuite (across the road) for $70 and Ron and Donna get a double without toilet/shower for $50. We book in at 4:00 pm.
I read the paper and watch TV and have a shower. At 5:05 pm we have a beer and nibblies in my room. At 6:00 pm we go to the pub. Tonight is pizza night. We have two pizzas between the three of us, $24 for each one. Good.
| | |
| --- | --- |
| | |
| Carrathool Hotel | Inside the Carrathool Hotel |
We have a few beers and discover that South Australia has now closed its border to all NSW, so we cannot go to the Flinders. We decide to head to Queensland and get border permits okay. We will now go via Cobar and Bourke to Cunnamulla. We go back to our dongas at 10:00 pm. It is raining heavier now, glad we are not camped.
Weather: Overcast then raining, max 14ÂșC
Arrived: Carrathool Time: 3:25 pm Distance: 628 kilometres
Day 2 – Thursday 24 June 2021 – Carrathool to Gundabooka, South of Bourke
Weather: Overcast, 10ÂșC minimum
I am awake at 7:20 am, slept pretty well for once. It rained till at least 2:00 am, maybe later. I have a shower, make some toast and a cup of tea. We leave at 8:30 am. A truckie in one of the other dongas has told me a quicker way to Griffith rather than returning to the highway. We parallel the Murrumbidgee River but on the northern side. This is a very good road.
| | |
| --- | --- |
| | |
| My donga at Carrathool | Morning tea opposite the Goolgowi Store |
We turn onto Kidman Way north of Darlington Point and arrive in Griffith at 9:40 am, 90 kilometres away. I go to Bunnings as I have forgotten to buy some extra butane cylinders for my hotplate. We leave just after 10:00 am and stop at Goolgowi for morning tea at 10:35 am. We have travelled 143 km. It is still overcast and only 14ÂșC. We leave at 11:05 am and will follow Kidman Way all today and a bit of tomorrow.
We encounter headwinds for most of the day. We stop at Mount Hope at 12:40 pm for lunch in a small rest area. This is 298 km from Carrathool. I have averaged about 13.7 l/100 km, pretty high for flat roads. There is a bit of sun around now, but it is still a cool 15ÂșC. Next stop is Cobar (2:50pm) and I drop in to one of the motels to visit Richard who is managing it. He and his ex-wife used to work with me at NSW National Parks and Wildlife Service. We have a good chat but we have to be back on our way.
| | |
| --- | --- |
| | |
| Raining on the Kidman Way | With Richard |
We leave at 3:15 pm. Our plan is to stop at a rest area 100 km north of Cobar but it is totally closed off as they are building new toilets. No idea why they needed to close it as the old toilets are still there and there was plenty of room away from the new building. We continue north. It is too late to drive to Bourke before dark, so we look for a spot where there is no mud (it also rained up here).
At the turn into Gundabooka National Park, there is a blue metal storage area. This has a large cleared area with a base of the metal, so no mud. We arrive here at 4:30 pm and decide to stop here for the night. The trip since Cobar has had much better fuel economy (12.8) as the northerly winds have dropped dramatically. It is now sunny, well, for the short time before the sun sets.
| | |
| --- | --- |
| | |
| A drone shot of our campsite alongside Kidman Way | Our campsite |
We set up camp on the edge of the metal so we can hammer pegs into the ground. We collect a lot of timber and start a fire. I fly the drone and then replace the batteries in my Spot device with some fresh (but only AA ones) and it works properly. Last night it did not work properly. I will get the correct batteries in Bourke.
We heat some garlic bread on the fire and have some of Donna's pea and ham soup for dinner. Excellent. A couple from Tasmania pull in about 6:00 pm, they saw our fire and reverse back to enter the area. It is almost a full moon tonight. We go to bed at 9:30 pm. I read till 10:00 pm.
Weather: Overcast mostly, max 17ÂșC
Arrived: Gundabooka NP turn, South of Bourke Time: 4:30 pm Distance: 571 kilometres
Day 3 – Friday 25 June 2021 – Gundabooka National Park to Eulo
Weather: Sunny, 2.3ÂșC minimum
It was quite cold overnight, but I was very warm with the new doona I am using. I also have a new radio which is rechargeable. As I will for the rest of the trip, listen to the main ABC Radio news at 7:00 am. I get up after the news and have breakfast. We leave at 8:35 am.
We arrive in Bourke at 9:10 am, 49 km away. I go to the IGA to get some things, including batteries for the Spot device. I then get fuel, 103.6 litres at $1.459, $151.17. Fuel economy is 13.9 l/100 km. We leave just at 9:35 am. We cross the border at 11:00 am, there is no checkpoint there. We stop just past here for morning tea. We have done 190 km this morning. It is still cool at 16ÂșC.
We leave at 11:15 am and travel to Cunnamulla. We stop at 12:30 pm at the park near the Cunnamulla Fella. It is packed. We have lunch here. We also go to the IGA to get fruit which we did not have as you cannot take into South Australia and I forgot to buy in Bourke. We leave at 1:25 pm and are at the Eulo Mud Baths at 2:15 pm. We book into the baths for 11:00 am tomorrow, $90.
| | |
| --- | --- |
| | |
| An old truck in the main street | The Eulo Queen Hotel |
We move to the campsite on the eastern side of the Paroo River and find a nice spot a fair way in. We have travelled 377 km. I put the new batteries in the Spot and it works perfectly. I take some photos with the drone. At 3:30 pm we walk to the pub, the Eulo Queen Hotel. We go direct to the pub through the bush via a track and then over the levee bank.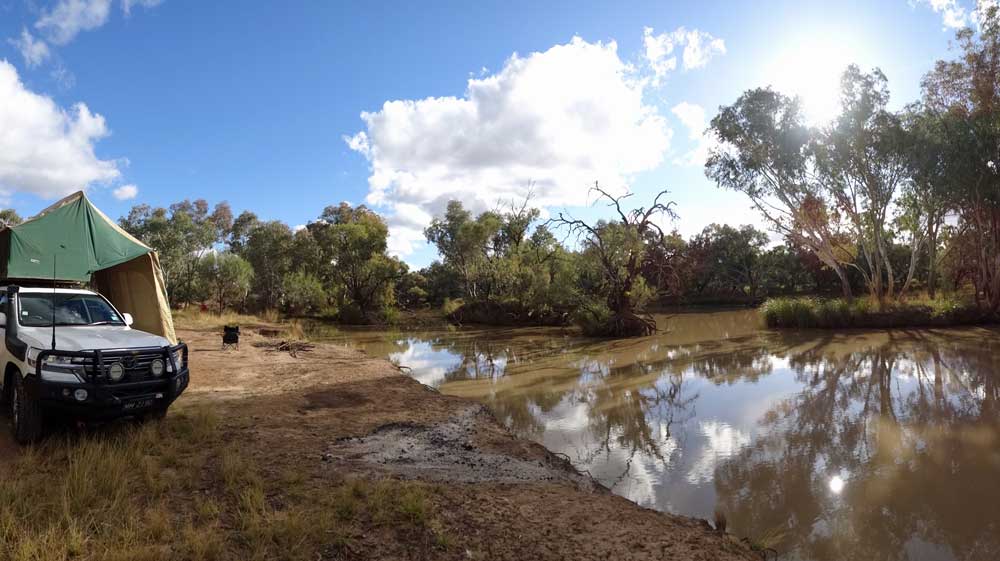 A panoramic photograph of our campsite on the Paroo River
We have a look around town before going to the pub. We have a couple of beers, XXXX Gold, $7 each. The pub and caravan park are booked out for weeks! We go back to the cars the same way we came. We put the fire on at 4:40 pm and then have beer and nibblies. I read the Sydney Morning Herald (SMH) using my tablet and the new Wi-Fi device I purchased last year but have never needed to use. Works great.
| | |
| --- | --- |
| | |
| A drone shot of our campsite on the Paroo River | Another shot looking towards the town |
I have chicken and fried rice for dinner. I go to bed at 10:00 pm and read for 30 minutes. About 7⁰C when I go to bed.
Weather: Sunny, max 16ÂșC
Arrived: Eulo Time: 2:30 pm Distance: 377 kilometres
Day 4 – Saturday 26 June 2021 – Eulo to Noccundra
Weather: Fine 2.0ÂșC minimum
Another cold night. I do not wake till 7:05 am and miss the first of the news. I then discover my new radio has an alarm, so I now set it for 6:59 am. I read the SMH in bed and get up at 7:55 am. After reading the paper, it is hard to understand how the new lockdown rules in place over Sydney apply to us. One interpretation is they apply to us, another is that they do not.
I have breakfast and then talk to Ida on the phone. They are going to meet us at the Eulo Mud Baths and travel with us for a while. We now plan our next week or so. With Ida and Ray joining us, we need to only go to places suitable for a two wheel drive motorhome. We decide to go to Noccundra now.
| | |
| --- | --- |
| | |
| The old Police cells in Eulo, now in the park near the toilets | Relaxing in the mud baths |
At 10:20 am we drive to town and look at the 1923 Police Cells which are now in the park with the toilets. I find a book in the book exchange and swap one for it. We go back to the mud baths at 10:50 am. These are interesting. We have four bath tubs for us to use. We fill with hot artesian water and soak in them with a beer/wine and some snacks. After 30 minutes we put the mud on us, soak for another 30 minutes with it on. Then we wash if off and dry ourselves next to the fire. Ray and Ida arrive while we are doing this. We finish at 12:30 pm and leave at 12:45 pm.
Before I leave town I get a phone call from the Victorian government department in charge of issuing entry permits to the State. They ask where am I in Victoria. I advise that as South Australia would not let us enter, we headed to Queensland and did not even enter Victoria. Nothing heard at all from South Australia!
| | |
| --- | --- |
| | |
| A break stop on the Bulloo Developmental Road | A straight stretch of the Bulloo Developmental Road |
We stop at the Eulo Mud Springs but nothing has changed since I was last here two years ago. There are no springs that I can see, they were also dry in 2010. At 2:25 pm we arrive in Thargomindah, 131 km away. We refuel, 59.4 litres at $162, $96.23. I averaged 13.0 l/100 km. Ron's LandCruiser uses about 0.5 to 0.75 litres more, presumably because he has a lift and also his rooftop tent is a bit higher. We leave at 4:40 pm, it is sunny and 17⁰C.
All today we are travelling on the Bulloo Developmental Road, also known as Adventure Way. It is a good tar road. At 3:35 pm we stop for a photo and toilet break. At 4:25 pm we arrive at the Noccundra Waterhole. The only thing here apart from the waterhole is a pub and some public toilets/showers.
| | |
| --- | --- |
| | |
| Our campsite at the Noccundra Waterhole | The Noccundra Waterhole |
We go right down the eastern end and find a spot. It is very crowded at the waterhole. The waterhole is full of water, more than in 2019 when I was here. At 5:00 pm we start a fire and have drinks. At 6:30 pm I heat up some pork spare ribs which I cooked at home and some fried rice.
After dinner we sit and watch the stars. We see 8 satellites. At 7:15 pm Ray and Ida and I walk to the pub. We have one beer and return at 8:30 pm. We sit around the fire for a while and go to bed at 9:30 pm. I read for a while and sleep after the 10:00 pm news.
| | |
| --- | --- |
| | |
| A drone shot of the Noccundra Waterhole | Ray and Ida outside the Noccundra Hotel |
Weather: Sunny, maximum of 17ÂșC
Arrived: Noccundra Waterhole Time: 4:25 pm Distance: 275 kilometres
Day 5– Sunday 27 June 2020 – Noccundra to Quilpie
Weather: Sunny, minimum 4.8ÂșC
It was another cool night. I wake at 6:30 am and read the SMH. The only ABC news I can get is from Melbourne. The Covid situation in Sydney is worse, the city is locked down till 9 July. Even if you were in Sydney on 21 June, it applies if in another part of NSW. I get up at 7:45 am.
We have breakfast, pack up and go via the toilets. We leave at 9:05 am and eventually end up on the Cooper Developmental Road. This is mostly a single lane tar road, with the very ocassional overtaking section.
| | |
| --- | --- |
| | |
| Bulloo Developmental Road | Cave Hill Quarry and Cave Hill at right |
At 10:10 am we stop at Cave Hill Quarry. This is a nice place to camp, lots of blue metal on the ground. We walk to the top of the hill. A flat mesa top, a half a dozen caves with wallaby poo in them. Excellent views. It is cool as there is a strong south-easterly wind blowing. While here we have morning tea.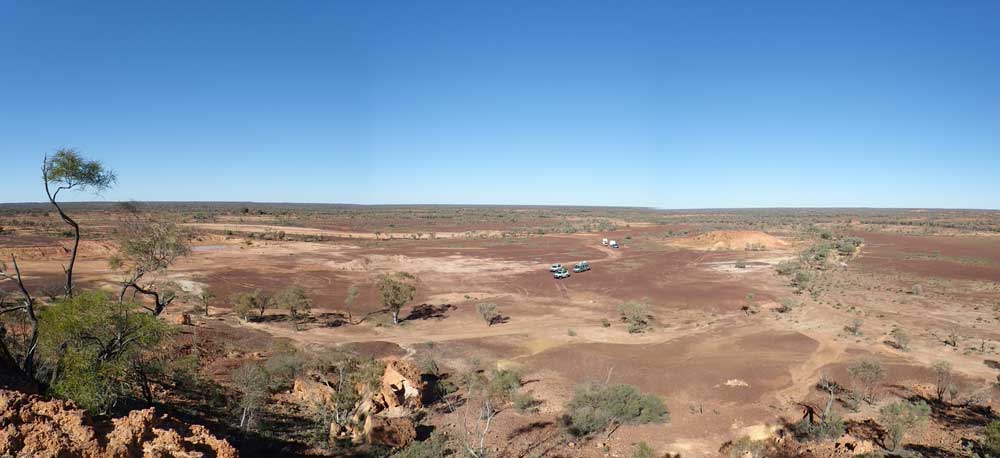 The view from the top of Cave Hill
We leave at 10:50 am and at 11:40 am we arrive in Eromanga. It is 179 km to here. There is a dinosaur sculpture as you come into town. I ring my neighbour Gerard and he tells me they went to the pub last night as the whole of Sydney went into lockdown at 6:00 pm (which will not be relaxed till over 15 weeks later).
We go to the community hall where there are toilets and discover there are also free showers here. We all have a shower and then lunch. We get the key for the museum from the hotel and head out of town. However, we go to the wrong museum. This one is a brand new dinosaur museum, entry $35. We really do not have time to do it as they said it will take a few hours.
| | |
| --- | --- |
| | |
| Eromanga Living History Centre | Inside the Eromanga Living History Centre |
| | |
| --- | --- |
| | |
| Another shot inside the Eromanga Living History Centre | The Eromanga dinosaur sculptures |
We find the one we should have went to, it is in the main street near the pub. It is very interesting, about the town and dinosaurs (the remains of many have been found near Eromanga). We have a beer at the Royal Hotel. We discover this is the furthest hotel from the ocean in Australia as Eromanga is the futhest town from the ocean.
We leave at 2:00 pm and arrive at Quilpie at 3:10 pm. The road from Thargomindah to Noccundra and onto here is all tar. We spend 20 minutes looking for a spot, both sides of the Bulloo River. Someone tells us about a spot down the end of a track that is too small and tight for caravans. I go and have a look, it is great. We set up camp at 3:40 pm, with Ray parking their motorhome on the track just before the end. This spot is on the western side of the river and the south side of the road.
| | |
| --- | --- |
| | |
| Royal Hotel, Eromanga | The old fuel pump outside the hotel |
We start the fire at 4:30 pm as it is a bit cool. Drinks are 5:00 pm and at 6:30 pm I cook a Scotch fillet steak and some sausages on my cast iron skillet on the fire. I have with some canned potatoes that I heat up. Ray and I then watch the State of Origan 2 on the TV in the motorhome. NSW beat Queensland 26-0 to take the series! I go back to the fire to read and the then to bed at 11:00 pm.
Weather: Sunny, maximum of 15ÂșC
Arrived: Bulloo River, Quilpie Time: 3:10 pm Distance: 303 kilometres
Day 6 – Monday 28 June 2021 – Quilpie
Weather: Sunny and minimum of 3.3ÂșC
It was a cold night once more. I wake at 6:00 am and stay in bed till 8:00 am. We are not going anywhere today, so no need to rush. I listen to the radio and read the paper before I get up. I have breakfast and Ray and Ida leave at 8:40 am. I put out the solar blanket since I am not using the car at all today.
At 10:00 am it is only 10⁰C. At 10:20 am I walk to town. There are free hot showers at the Lions Bicentennial Park on the western edge of town. I also find that the fuel near here is only $1.45 a litre compared to $1.67 in town! I walk back via the butcher, supermarket and St Finbarr's Catholic Church where the altar is made of opal. I also go to the old powerhouse. It was 7.26 km all up. Back at 12:40 pm.
| | |
| --- | --- |
| | |
| The Bulloo River at our campsite at Quilpie | A road train at Quilpie |
After lunch I hang up some washing I did when on my walk. It is windy but a warm (for winter) 16⁰C. I put up my hammock and read for the rest of the afternoon.
I get an email from the Big Red bash volunteer co-ordinator (who I worked with at NPWS). I had emailed earlier (perhaps yesterday) that I was still not certain that I was able to attend due to the Covid rules in place by Queensland and NSW. We later have a phone discussion and she agrees it is not clear and suggests I go to the local Police station and ask. I agree to do this.
| | |
| --- | --- |
| | |
| Inside the Quilpie Powerhouse | The altar in St Finbarr's catholic Church |
At 4:00 pm I go for another walk, this time around the camping area. I walk another 1.26 km. At 4:35 pm Ron starts the fire as it is now a little cool. I try to fly my drone but it will not work due to being too close to the airport. We have drinks and nibblies at 5:30 pm. We again have Donna's pea and ham soup with garlic bread. Later we have port and chocolate!
I also talk to our friend John in Melbourne and get a message from two other friends from down there that they are getting married next week. Great news! I go to bed at 10:00 pm.
Weather: Sunny, maximum of 16ÂșC
Arrived: Still at Paroo River, Quilpie Time: N/A Distance: 0 kilometres
Day 7 – Tuesday 29 June 2021 – Quilpie to Windorah
Weather: Sunny and a minimum of 5.5ÂșC
A bit warmer than the past few nights but still quite cool. I am awake at 6:40 am but as the sun is not up till 7:11 am this morning (and much later further west we go), I normally do not get up till 8:00 am. However, today I get up at 7:10 am. After breakfast we leave at 8:35 am and go into town. I go to the Police station and ask the Senior Constable on duty about whether I can go to the BRB. He says so long as I have a permit to enter Queensland, then it is okay. He reckons they (the permit issuers) will send an email if the situation changes.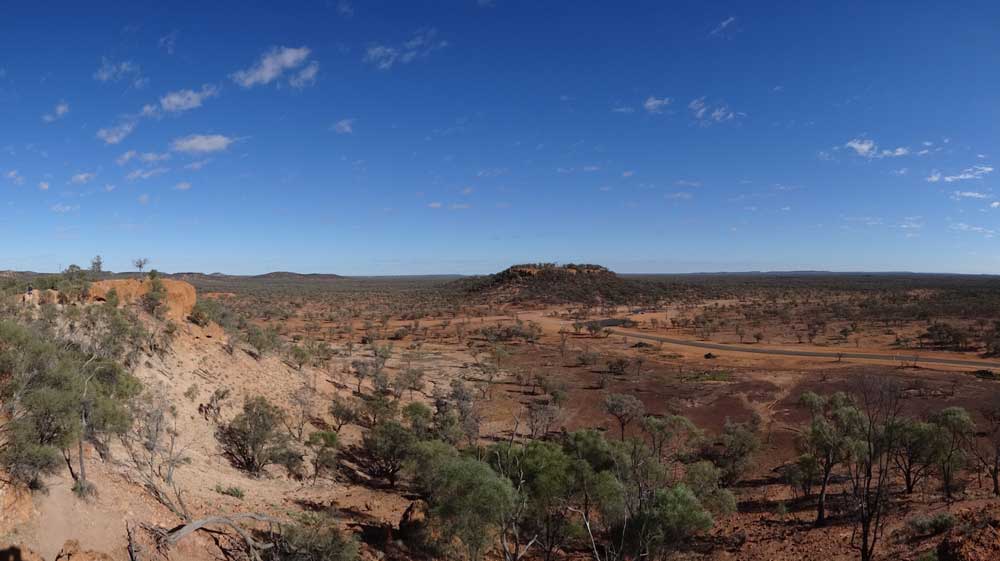 A panoramic photograph from the top of Baldy Top
We go to the supermarket, I fill my water containers and tank at the information centre and then refuel. I take 63.1 litres at $1.45, $91.55. This is 14.1 l/100km, high due to the strong headwinds since Thargomindah. I then go to the showers and have a nice, free, shower. It was only warm, not hot, but it was very good.
Ron and Donna are a bit later as they had more shopping to do. They have showers and then refuel too. We leave town at 10:05 am. We go to Baldy Top Lookout about 11 kms south-west of town which gives great 360⁰ views of the area. You can see the town. I fly the drone and get some great photos.
| | |
| --- | --- |
| | |
| Baldy Top Lookout from my drone | Kyabra Creek |
We go to the airport after this (10:40 am) as a sign says Amy Johnson landed here on her historic flight from England to Australia in May 1930. However, there is nothing here at all except three photos. Disappointing! The Diamentina Developmental Road to Windorah is mostly single lane tar. There are lots of cars and caravans. There are some dead emus and kangaroos along the road and we see one large (live) wedgetail eagle.
At 12:15 pm we stop at Kyabra Creek Rest Area for lunch. It is a warm 21⁰C and there is a lot of water in the creek. It is a nice spot. We leave at 12:45 pm. A few minutes up the road we stop to cut some timber. We are back on the road at 12:58 pm.
| | |
| --- | --- |
| | |
| Cooper Creek at Windorah from my drone | Our Windorah campsite |
At 2:10 pm we arrive at Cooper Creek, about 12 kilometres east of Windorah. We have a look around and at 2:20 pm we pull into a spot on the north-western side of the bridge over the creek. It is even warmer now, 24⁰C, as we set up camp. We split the firewood as we are having roast dinner in the camp ovens tonight. I walk to the bridge to take some photos and then fly my drone.
At 4:00 pm we put the fire on and at 4:30 pm we walk to the far end of the camping area. This is one kilometre from the main road (we are probably 200 metres from it). There are lots of camping spots, some large. At 5:15 pm we put our roasts on. I am cooking pork and Ron chicken. I then cut up my vegetables and at 5:30 pm they go in the camp oven and I have a beer.
| | |
| --- | --- |
| | |
| Our camp ovens are on cooking our roasts | My roast dinner! |
It is still a warm 20⁰C. The roasts are ready at 6:40 pm. There are a few spits of rain later. At 10:00 pm we go to bed and ten minutes later it starts to rain.
Weather: Sunny, maximum of 24ÂșC
Arrived: Cooper Creek, Windorah Time: 2:20 pm Distance: 254 kilometres
Day 8 – Wednesday 30 June 2021 – Windorah to Haddon Corner
Weather: Overcast, minimum 14.5ÂșC
It rained solidly till 3:00 am, heavy at times. Then no rain till 6:00 am when it rained heavily for a few minutes and then lightly till 6:45 am. I stay in bed and read the SMH till 8:05 am when I get up. The ground is very wet and the mud very, very sticky. I put on my walking boots and walk to the road. It is very difficult as it is slippery and I end up with huge clown-like feet of mud.
I go over the bridge and watch as a Toyota LandCruiser 79 series pulls cars with vans from the camping area onto the tar road. There is a small hill and no-one can get up it due to the mud. I go back to the campsite. I check the internet and see that 6.8 mm of rain has fallen at Windorah Airport.
| | |
| --- | --- |
| | |
| The 79 series pulling the caravan through the mud | The mud on my boots |
We have breakfast and discuss what we are going to do as we fear the dirt road from Windorah towards Birdsville will be closed. The sun comes out but still some cloud to north-east. We decide to leave as the Barcoo Shire website says the road is open. We leave at 11:00 am and have a very slippery drive the few hundred metres to the tar road. At one spot Ron goes quite sideways before recovering.
We arrive in Windorah 15 minutes later. We go to the petrol station and discover we can go straight in as others are lined up from the wrong direction. I take 38.7 litres at $1.60 a litre, $61.99. This is an average of 14.8 l/100 km, again high because of headwinds. We go to the toilets and I change as I still have my muddy boots on etc. We leave at 11:40 am.
Looking south-east at the turn to Haddons Corner
We stop at some garbage bins at 12:30 pm, 87 kilometres from Windorah. We have lunch here, it is again very windy. We leave at 12:55 pm and turn off the Diamentina onto the Birdsville Developmental Road which is tar for another 15 kilometres and then basically dirt all the way to Birdsville (and Innamincka if you go that way). However, the dirt road is dry and in very good condition and at one spot it looks like they are preparing it for tarring. There are three road grader crews at various spots.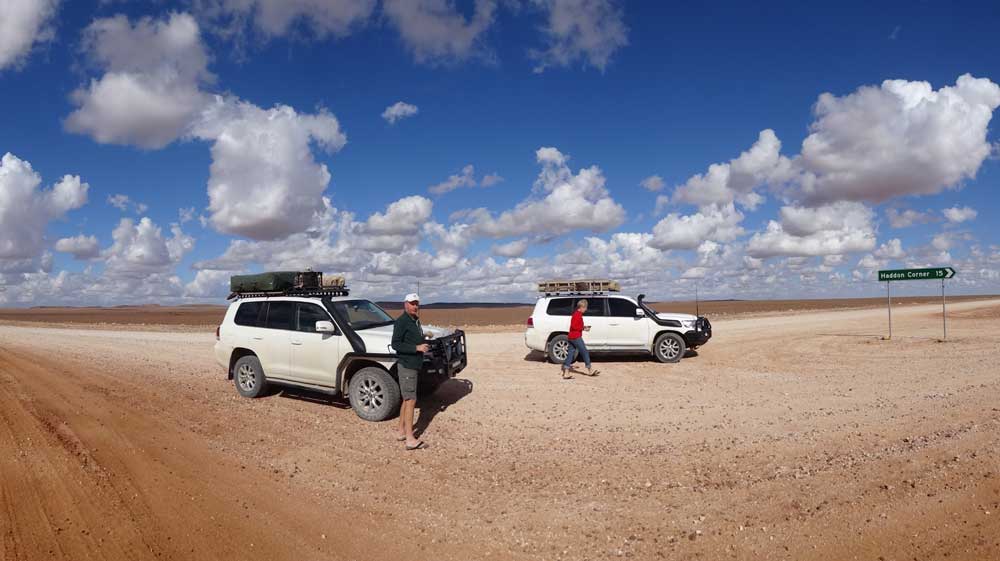 At the turn to Haddons Corner
We turn at the Arrabury Road which goes to The Dig Tree and Innamicnka (also Thargomindah). We arrive at Haddons Corner at 2:45 pm. This is the spot where South Australia and Queensland meet in a corner. I was here two years ago but Ron and Donna have not been here before. The corner post is surrounded by water and mud. Ron and Donna have to go bare footed to get there. I don't go since I was here in 2019.
| | |
| --- | --- |
| | |
| Ron and Donna at Haddons Corner | A wider view of Haddons Corner, SA to back and left |
I fly the drone and take some photos of them. At 3:10 pm we drive back over the dunes and camp at the same spot John and I camped in 2019. This is on the eastern side of a large sand dune and is protected from the wind. We set up camp and I dry out the flooring from under the awning that got wet last night as well as my boots.
| | |
| --- | --- |
| | |
| Our campsite at Haddons Corner | Another shot of the campsite at Haddons Corner |
We all have a shower using my car and then have a cuppa and read. There are heaps of flies. A Robinson R22 helicopter comes in from the west right on the border line and heads off to the east. Another car comes in and camps to the north of us. It is sunny now but lots of clouds to the east.
| | |
| --- | --- |
| | |
| Drinks at Haddons Corner | A time exposure of our campsite |
We have a nice fire using timber from the area, mostly small bushes. It burns very well. I cook chicken breast with Caribbean jerk flavouring with some leftover canned potatos. Later I cook 10 scones in the camp oven using the Lauts Scone Mix. The first five take 22 minutes and the second lot 17 minutes. We have a scone each for dessert and store the rest for upcoming morning teas. I go to bed at 10:00 pm, it is 15⁰C
Weather: Sunny and windy, maximum of 24ÂșC
Arrived: Haddons Corner Time: 3:10 pm Distance: 231 kilometres
Day 9 – Thursday 1 July 2021 – Haddon Corner to Betoota
Weather: Foggy, minimum 4.5ÂșC
I had a great sleep, perhaps the best on this trip so far. It got colder about 3:00 am so I had to pull the doona back on (did not use last night). I wake at 6:45 am and listen to the news and read my Kindle. I get up at 7:30 am and it is very foggy. Sunrise is about this time here. We have breakfast and the fog clears about 8:30 am.
| | |
| --- | --- |
| | |
| Fog at our campsite | Fog on the Arrabury Road |
We leave at 9:05 am and before we go too far we are back into the fog. It is very thick and at times we can drive no faster than 50 km/h. We go back to the Birdsville Developmental Road and head towards Birdsville. About 10 kilometres along the road the fog disappears. We stop at Deons Lookout at 10:25 am. This is 90 kilometres from Haddons Corner and I have averaged 13.2 l/100 km. It is now 17⁰C and sunny. There are not many cars on the road, a big difference to 2019 when there were cars everywhere. We have morning tea, scones from last night.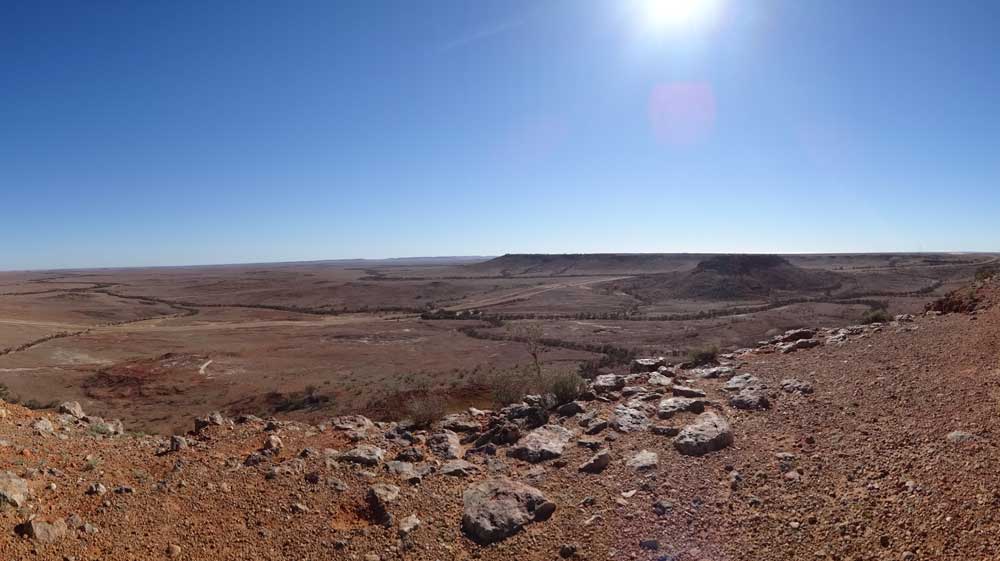 A panoramic photograph from Deons Lookout
At 10:50 am we leave and we take the turn shortly after towards Betoota. At 11:08 we stop to cut timber. I slip on some mud and ended up with mud all over my shorts and shirt. Bugger! At 11:10 am we arrive at the Betoota Waterhole. We have a look around and decide to camp at the eastern end where I camped in 2019.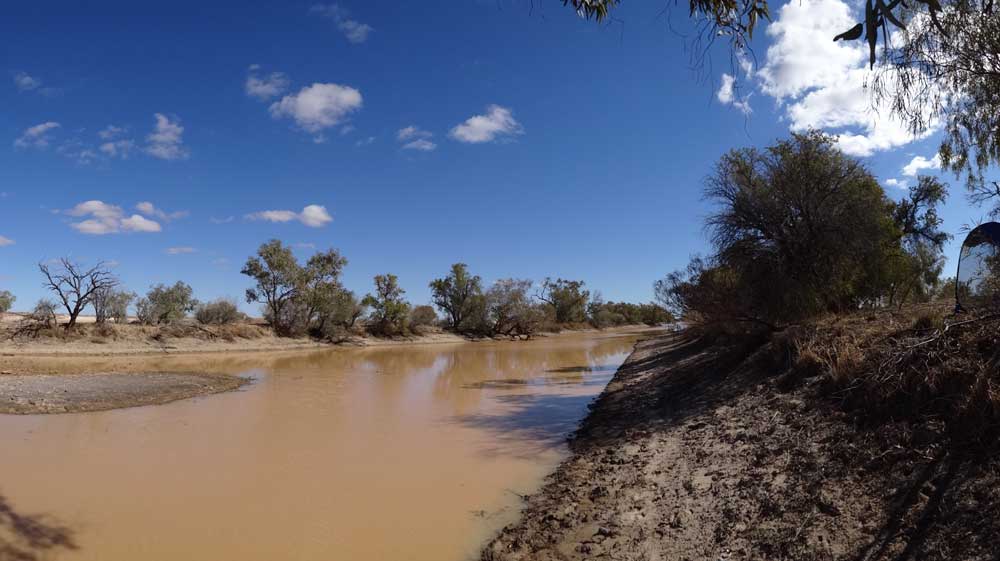 A panoramic photograph of Betoota Waterhole
We set up camp and I wash my shorts and shirt using the waterhole water and rinse with fresh water. I top up my water tank with 10 litres of Sydney water from a container. I put up my fly screen tent and sit in there reading. I make some lunch using the roast chicken and pull the rest of it apart to use for dinner tonight. I go back into the fly screen and read for the rest of the afternoon, having a few cups of tea as well.
At 4:00 pm we walk up to the Betoota Hotel. There are at least 50 vans opposite the pub and probably 120 to 130 all up here. I have a Coopers Pale Ale for $5, a ridiculously low price. The pub is packed inside and out. They have done a lot of work since 2019 and it looks great. There is a band playing tonight too.
| | |
| --- | --- |
| | |
| The Betoota Hotel | A drone photograph of Betoota, hotel at left, our campsite at right |
We are back at our campsite at 4:55 pm. We have drinks overlooking the water and someone plays bagpipes. I make Madras curry chicken and rice for dinner with some left over for another meal. We sit around the fire and star gaze, seeing 17 satellites and 11 shooting stars. I read at the fire till 9:45 pm and then go to bed, reading some more and listening to the ABC news.
Weather: Sunny, maximum of 20ÂșC
Arrived: Betoota Waterhole Time: 11:10 am Distance: 111 kilometres
Day 10 – Friday 2 July 2019 – Betoota to Simpson Desert
Weather: Sunny, minimum of 7.0ÂșC
Another warmish night. Another great night's sleep, first till 11:30 pm then 5:10 am. I wake finally at 6:00 am and get up at 7:10 am before the sun is even up. We have breakfast and leave at 8:40 am. Only 10 kilometres on we stop at the Betoota Dreamtime Serpent artwork which is on the side of a small hill adjacent to the road. I do not recall seeing this in 2019,I suspect because there were so many cars on the road and so much dust. There are toilets here too I think.
The road was rough till 45 kilometres from Birdsville when it becomes much better. As we roll into Birdsville, opposite the racecourse, we are pulled over by the Police who have set up a sort of roadblock. They ask us for our Queensland entry permits and once we show, we are free to head into town. They appear to be only pulling over NSW cars.
| | |
| --- | --- |
| | |
| Part of the Betoota Dreamtime Serpent | Ron and I having a curry camel pie |
Once in town we go straight to the main roadhouse and fill up with fuel. It is 10:55 am and there are no queues at all. I take 64.9 litres at $1.75, $113.54. I have averaged 12.9 l/100 km since Windorah. We have travelled 168 kilometres from Betoota.
I then go to the Big Red Bash (BRB) Volunteer check-in location. I check in and find Aine who I used to work with at NSW National Parks and Wildlife Service. She is one of the volunteer co-ordinators. After this we head back to the common to fill our water containers. We have to wait a bit as there are queues at all the water taps. The water here is artesian but is perhaps the best tasting artesian water I have ever tasted.
| | |
| --- | --- |
| | |
| Morning tea at Birdsville | Our LandCruisers on top of Big Red |
From here we head to the Birdsville Bakery which has reopened under new ownership (the hotel now owns). It was closed in 2019. Ron and I buy two curry camel pies each ($9 each). We eat one and put the other in our fridges. We then go to the waterhole to relax and read. A former work colleague of Ron's arrives. He is the drone operator at the BRB.
I head to the volunteer area again for a 2:00 pm induction. It starts 30 minutes late and really does not achieve much, it was all covered in the paperwork that was given to us earlier. We leave town at 3:30 pm. At 4:05 pm we arrive at the Big Red sand dune. We go up from the eastern side easily, although my brand new sand flag looks like it has broken already. I only drop my tyre pressures to 20 psi and despite a few tries, I cannot get up the western side as I keep bottoming out. I cannot be bothered dropping my pressures further.
Looking at the site of the Big Red Bash before the people have moved in
We head out into the Simpson Desert on the QAA Line. This, like all the tracks across the Simpson Desert, consists of two wheel tracks. Every half a kilometre or so you have to cross a sand dune. In between the ground is generally flat and the driving easy. Most of the dunes are very easy to cross, although a few are very bumpy and churned up.
| | |
| --- | --- |
| | |
| A drone shot of the QAA Line looking west from our first campsite | A drone shot of our campsite in the Simpson Desert looking east |
We stop at 5:00 pm on the western side of a claypan and eastern side of a sand dune. We have only passed four cars since leaving Big Red. This is 53 kilometres from Birdsville. At 5:45 pm we have drinks and put a fire on. There is not much timber here at all. I cook a pork steak with cheesy rice. I also add some of the rice dish to last night's curry and keep the rest for another meal.
| | |
| --- | --- |
| | |
| Our first campsite in the Simpson Desert | A night shot of our campsite in the Simpson Desert |
After dark two lots of vehicles head past from the west heading towards Birdsville. The last one had a large truck with it which had lots of problems on the dunes near us. Today I had problems with my radio and I had to reboot it to be able to get the radio to scan. I go to bed at 10:00 pm.
Weather: Fine, maximum of 18ÂșC
Arrived: Simpson Desert, east of Eyre Creek Time: 5:00 pm Distance: 224 kilometres
Day 11 – Saturday 3 July 2021 – Simpson Desert to Poeppels Corner to NT/Qld Border, Simpson Desert
Weather: Minimum of 7.0ÂșC and fine
Another cool night as there has been a southerly blowing all night. I awake at 6:00 am and finish my book The Dry. It is a really good book and has recently been made into a movie. I get up at 7:25 am and have breakfast. I drop my tyre pressures further to 18 psi. We leave at 8:35 am and it is 9⁰C.
We reach Eyre Creek at 9:10 am. This is composed of numerous channels and is kilometres wide. We stop and cut some nice timber as there are plenty of trees here. We are back on the road at 9:25 am. We pass a few cars and at 10:10 am we stop just inside the national park for morning tea. We have travelled 30.3 km, 18.3 l/100 km. It is now 13⁰C. We finish off the scones I made a few nights ago.
| | |
| --- | --- |
| | |
| The QAA Line across the Simpson Desert | Eyre Creek |
We leave at 10:45 am. Just after noon I stop on a dune and use my drone to video Ron coming over the dune. We are back on the road at 12:20 pm. At 12:45 pm we stop for lunch, 77.3 km from our campsite, at a camping spot marked on our maps. I have averaged about 18.5 l/100 km this morning. It is now 17⁰C and sunny. We have crossed 96 dunes! We have seen six more cars and one bike today.
We head off again at 1:10 pm. We see five more cars. The track is really just two wheel tracks on sand. The flat sections are relatively smooth but as they go over sand dunes they can be very bumpy. We stop for a rest break at 2:10 pm, 98.3 km for today. Fuel economy is a lot worse on this section, 22.0 l/100 km as the last bit has been a lot rougher over the dunes, requiring much slower speeds. We leave at 2:25 pm.
| | |
| --- | --- |
| | |
| The QAA Line from the drone | The sign to Poeppels Corner (yes, misspelt) in NT |
We cross into the Northern Territory and after crossing the salt pan we meet three cars who came via the road to the west. There are three separate roads to Poeppels Corner, very confusing really and many maps are wrong. We head further west into NT and take the western most one, K1 (I think it is called that, the sign said it was but some maps show K1 as further east). The first part of this is very rough but then gets better. Ron takes a road along the edge of a salt pan but I stay more in the dunes.
| | |
| --- | --- |
| | |
| The track along a salt pan in NT | Me at Poeppels Corner |
We both arrive at Poeppels Corner, the intersection of NT, South Australia and Queensland at about 3:33 pm. We have travelled 125 km today. I have averaged 18.2 l/100 since we stopped for a break. The corner is marked by a newer concrete marker and the old timber one is here too. This was erroneously placed about 200 metres away in the middle of a lake (dry salt pan) by the surveyor Poeppel due to a stretched chain he used. Donna says we have crossed 122 dunes since lunch. Technically we could be in trouble since we have entered both NT and SA without permits, but there are dozens of people doing the same thing.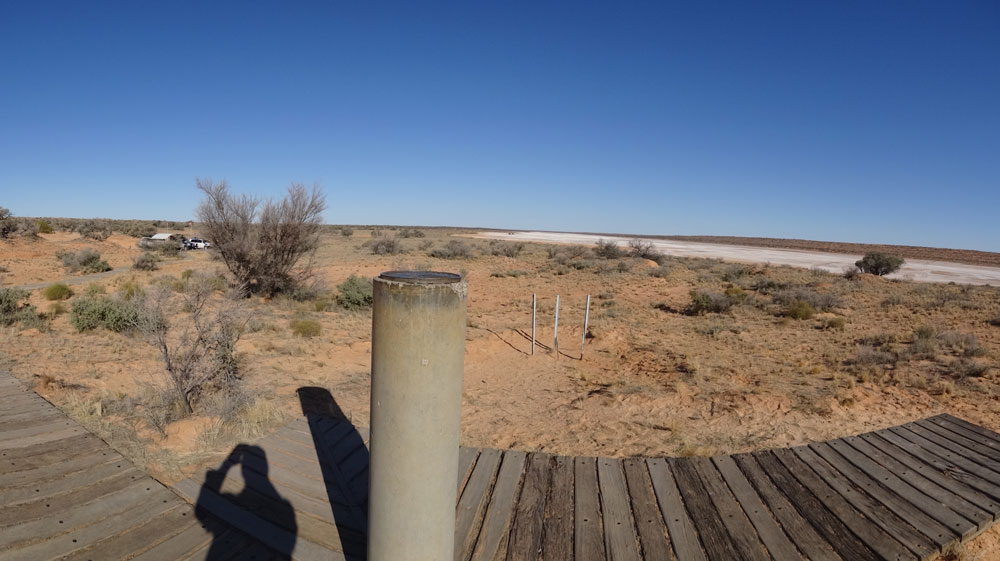 A panoramic photograph of Poeppels Corner looking into South Australia
While here, we watch as five vehicles head down the French Line across the salt pan to the south of the corner. One vehicle gets bogged badly and another goes sideways and off the road. It could be that they were mucking about and actually going off the road deliberately. Eventually they pulled the bogged one out and the other one got itself back on the main track. Idiots!
We leave at 3:55 pm and this time head back on the eastern most track. This runs alongside another salt pan and the track is heaps better. We sit on 60 to 70 km/h most of the way. We reach the QAA Line and head back into Queensland. At 4:40 pm we find a camping spot just inside the border on the northern side of the track between two sand dunes. It is a nice spot with heaps of firewood. My fuel economy from Poeppels was a fantastic 13.9 l/100 km.
We set up camp and have showers. After this we start a great fire and have drinks. For dinner I have curry chicken and rice from two nights ago. We do some star watching and have Baileys and chocolate and we see five satellites and five shooting stars.
It is quite cold at 6⁰C when I go to bed at 10:00 pm. I read for 30 minutes.
Weather: Fine, maximum of 18ÂșC
Arrived: NT/Qld Border, Simpson Desert Time: 4:40 pm Distance: 150.6 kilometres
Day 12 – Sunday 4 July 2021 – NT/Qld Border to Eyre Creek, Simpson Desert
Weather: Minimum of -2.8ÂșC and fine
A freezing night, a minimum of -2.8⁰C. Even at 7:30 am it is -1.1⁰C and only 1.1⁰C at 8:00 am when I get up. It is sunny and there is no wind. I make a bacon toasted sandwich for breakfast, very nice. I fly the drone and take some photos of the camp site. By the time we leave at 10:00 am it is 12⁰C but I have shorts and T-shirt on.
| | |
| --- | --- |
| | |
| Our campsite on the second night taken the next morning | The view to the east from campsite 2 |
A motorbike overtakes us and we see a couple of cars ahead of us, they must have camped ahead of us as no-one passed our camp this morning. Three vehicles pass us heading west. Just before 11:00 am we stop for morning tea. We have only travelled 20.8 km, fuel economy a much higher 21.2 l/100 km. While stopped, the support vehicle for the motorbike passes us, they are a long way behind him.
We leave at 11:20 am and stop for lunch at 12:30 pm. We have now travelled 48.7 km in the 130 minutes we have been driving, an average of 22.5 km/h. Fuel economy 19.0 l/100 km. It is another cooler day, only 16⁰C but sunny. We leave at 1:00 pm. A few vehicles pass us heading west and also some pass heading east while we were stopped.
At 2:10 pm we stop at a Chevolet Silverrado which is still in the same spot as yesterday. We check it out, hoping we do not find a dead person inside! Looks like it must have broken down, although you think they would have put a note in it to this effect. We are back underway only a few minutes later.
| | |
| --- | --- |
| | |
| Drone shot of Eyre Creek | Our campsite at Eyre Creek from the drone |
We arrive at Eyre Creek at 2:40 pm. This is 87.9 kilometres from our campsite. Ten minutes later we have a campsite picked out on the western side of the creek about 500 metres off the QAA Line. We set up camp and have showers while the engine is still hot (it takes only five minutes to heat 10 litres whereas a cold engine takes over 15 minutes).
The birdlife here is excellent. We see galahs, black kites, corellas and hundreds of budgerigars. The budgies land only 30 metres away from us and are immediately invisible in the short grass. I walk towards them and I cannot see them till they take off when I am 10 metres away.
| | |
| --- | --- |
| | |
| Our campsite at Eyre Creek | A night shot at the Eyre Creek campsite |
At 4:00 pm I make dough for the pizzas we are cooking tonight. At 4:05 pm the NRL is on the radio, Souths are playing the Tigers. Souths win 38 to 22. A bad second half as it was 26 nil at half time. The fire is also started. I make a garlic and cheese pizza for entrée. We then make a pizza each with chorizo, salami, ham, pineapple, onion, cheese and my new FHCS (fucking hot chilli sauce). The pizza is fantastic!
After dinner we watch the stars and see 12 satellites and 3 shooting stars. It is very cold, thank God for the fire. When we go to bed at 10:00 pm it is only 1⁰C.
Weather: Fine, maximum of 18ÂșC
Arrived: Eyre Creek, Simpson Desert Time: 2:40 pmDistance: 87.9 kilometres
Day 13 – Monday 5 July 2021 – Eyre Creek to Big Red Sand Dune
Weather: Minimum of -3.2ÂșC and high overcast
A second cold night, even lower temperature at -3.2⁰C. When I get up at 7:25 am it is -0.1⁰C. The fire is still warm so I had to stand next to it to stay warm. We have breakfast and pack up. I say goodbye to Ron and Donna as I am heading off before them to go to the Big Red Bash. They are heading off to Diamentina National Park and we will meet up again next Saturday at Bedourie. I leave at 8:35 am.
My desert flag finally breaks and I have to stop a couple of times to jury-rig it to the Shippshape rooftop tent. It has been getting worse and worse each day, a very poor product not worth a dollar. I arrive at Little Red sand dune at 9:45 am. This is 23.0 kilometres from Eyre Creek. I stop at the volunteer entry gate and pump my tyres back up.
| | |
| --- | --- |
| | |
| My desert flag is stuffed, I have to jury-rig it to the rooftop | My campsite in the volunteers's area |
I enter at 10:05 am and then five minutes later I am at Big Red at the entrance into the volunteer camping area. I have to wait for someone to show me where to camp. At 10:20 am I am setting up my camp in a really good spot close to the concert area. I am finished by 10:55 am. My neighbours are Carl and Donna and Brett and Julie. Carl and Brett work together. Carl and Donna's daughter is also there with her partner.
I have a cuppa and then walk to the concert area. There appear to be more food options this year which is good as I intend to eat all my dinners using them. There are burgers, pies, Mexican, kebabs and more. The merchandise tent is overflowing, I want to get a long sleeve shirt but I will not queue. I go back to the Cruiser and make lunch as well as another one for dinner since I will be working tonight.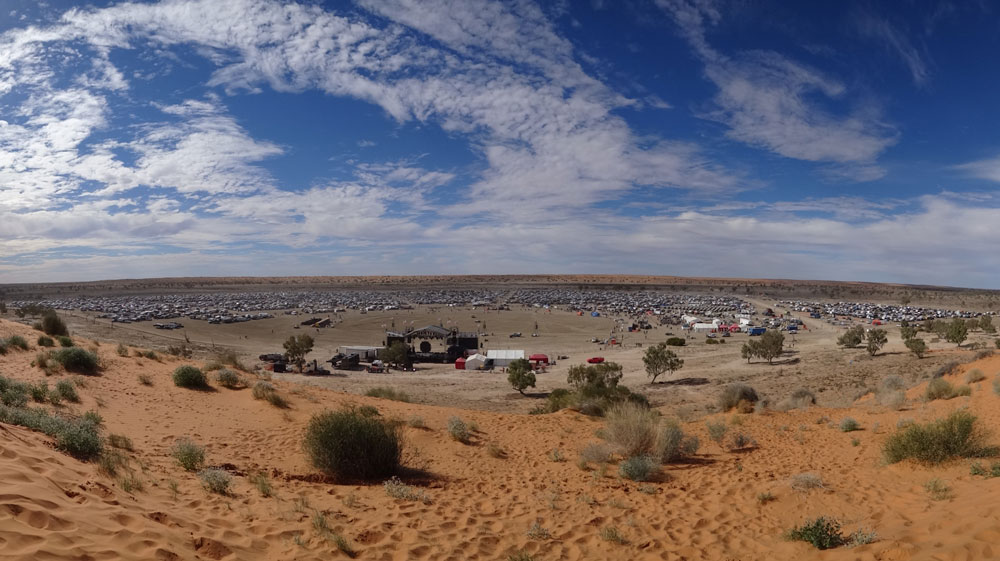 A panoramic photograph of the Big Red Bash site from Big Red
At 1:15 pm I walk to the top of Big Red via the merchandise tent, still packed. I send an SMS to Ron who replies saying they are not going to stay in Birdsville as it is too crowded. I also put up a Facebook post, you can get patchy Telstra coverage here, but with large numbers on the dune it can sometimes take a while to post things.
I have another cuppa and then go for a walk through the volunteer camping area. I count the makes of vehicles and there are exactly 200. Of these, 45% are Toyota (25% LandCruiser), 20% Ford (mostly Explorers), 7% Nissan, 7% Mitsubishi (higher than I expected), 5% Isuzu, 5% Holden, 4% Mazda, 2% VW, 1.5% Jeep, 1.5% Land/Range Rover and 3% other.
Once back at my camp I get my stuff together for tonight. I put a thermos of tea, some chips, a Coke, my headlamp etc in my backpack. At 5:10 pm I go to the volunteers tent. There are three of us on garbage duty in the concert area and we start at 5:30 pm. Our role is to check the garbage bins, if full (or nearly full), remove the garbage bag and put a new one in. We take the bags to a central point for collection.
| | |
| --- | --- |
| | |
| The volunteer camping area from Big Red | Sunset on the first night |
Tonight there is no movie like 2019, only an entertainer called Kyle Lionheart from Byron Bay. He is pretty good. It is all finished by 7:30 pm. We are not busy at all, we only have to empty a couple of bins (you are only supposed to put rubbish from the food vendors in them). During the concert, I go to the merchandise tent and buy my shirt for $75. I also end up buying dinner, loaded chorizo roll for $15. It is nice.
At the end we have to pull up all the pegs which delineate the walking aisles. We are finished by 8:05 pm. I walked 5.3 kilometres.
I go back to the campsite and have beers at the neighbours fire. I am in bed by 10:15pm.
Weather: Sunny, maximum of 16ÂșC
Arrived: Big Red Bash Time: 10:20 am Distance: 25.9 kilometres
Day 14 – Tuesday 6 July 2021 – Big Red Bash
Weather: Minimum of 2.4ÂșC and fine
A much warmer night, almost six degrees warmer. I am awake at 6:20 am. After listening to the radio news, I read my book till 7:45 am when I decide to change the sheets on the bed. It is a bit hard to take off the dirty ones and then put the new ones on, I have never done it this way before. Normally I have taken them off, then washed, then put back on. For this trip I have brought a second set which I have been storing on the other side of the bed.
I get up at 8:05 am and have breakfast. I then walk to the merchandise tent to exchange my shirt as it is either dirty or stained. There are no problems in exchanging it. On reflection I think it was a printing mistake, black ink blotches where there should not be any. I then walk to the top of Big Red and phone my mother to check how she is going. All is well and she is coping okay with having no visitors in the aged care facility for the past almost two weeks.
| | |
| --- | --- |
| | |
| The urine collection truck, 2019 it was VB! | Another photo of my campsite |
I am back at 9:50 am and have a cuppa and read some more. At 11:00 am I started the LandCruiser and start heating water for a shower. As the engine is cold, it takes a long time to heat the engine and the water via the heat exchanger. The water in the radiator is 12⁰C at the start according to the car's Scangauge and it takes 15 minutes to heat the water to 42⁰C. By this time the water for the shower has also heated to 42⁰C. If you do this once you arrive at a campsite it only takes less than five minutes. I turn off the engine and then have a nice shower, catching the waste water in a tray.
At 11:50 am I leave for my volunteer shift. I take a thermos with tea, sandwiches, cold drink and an apple. My neighbours will take my chair to the concert area and set up with them so I can join them at 5:00 pm. It was very easy for the first 2.5 hours, then there were lots of bins to empty.
Some of the entertainers include The Chantoozies, as good as ever, Sarah McLeod is great (later she does an AC/DC set), Joe Camilleri and the Black Sorrows and Busby Marou. During the afternoon I rest a couple of times on my chair. It is a brilliant day, both weatherwise and entertainment, sunny and about 24⁰C.
At 5:00 pm I finish work and join the others. At the interval, I go and get changed into warmer clothes as I was wearing shorts and T-shirt. I also purchase dinner, an Aussie burger and chips, $15. Finally, Chocolate Starfish is on. They do two songs from Bat Out of Hell, three or four Queen songs, then three INXS songs and one more Bat Out of Hell. I spend most of the time up the front, but not in the mosh pit as numbers are limited due to Covid.
| | |
| --- | --- |
| | |
| The stage | Adam from Chocolate Starfish |
Chocolate Starfish are once again fantastic, so entertaining. They finish at 8:00 pm. We go back to our campsite and light the fire and have a few drinks. The area around our campsite is now full of general entry people rather than volunteers. I go to bed at 11:15 pm. It is now a cool 7.5⁰C.
Weather: Sunny, maximum of 24ÂșC
Arrived: N/A Time: N/A Distance: 0 kilometres