Fish Rock at South West Rocks on the Mid North Coast of New South Wales is probably NSW's best individual dive location. The many areas immediately around Fish Rock are all excellent for diving and can be done as a specific dive. However, in good dive conditions (flat seas and absolutely no current), possibly the best dive in NSW can be done. To do this dive you must be an experienced diver and also very good with your air consumption.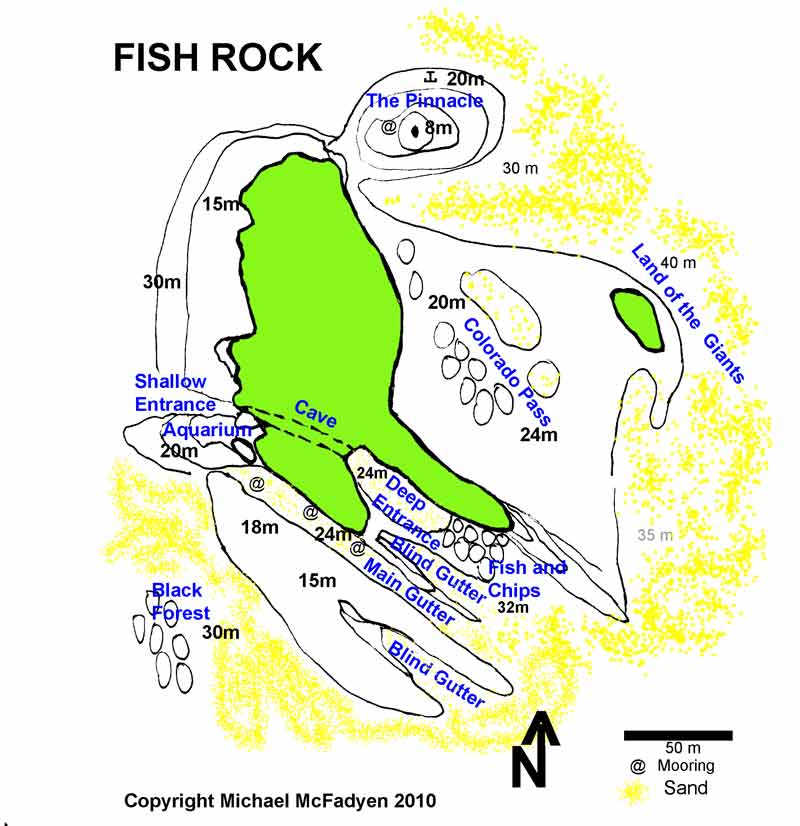 A map of Fish Rock
The dive starts at The Pinnacle, a rock that rises from 30 metres to almost 7 metres on the northern side of the island. You swim to the south along the sloping wall of Fish Rock. As you go you see the small anemones and clownfish that have only taken up residence in the past five years. You soon come across the Shallow Entrance to Fish Rock Cave. Drop over the edge into the gutter and enter the cave. You cannot really spare much time to explore, so travel through the cave and drop down either of the two chimneys and exit through the Deep Entrance of Fish Rock Cave.
Continue along the sand gutter outside the cave until you reach the large boulders. There are normally walls of fish in this area, so dense you cannot see the rocks themselves. Ascend over the ridge on your left and then drop down a bit to 20 metres or so. Follow the wall back to the north-west. This will take you along Colorado Pass (but in the reverse direction to normal drift). The fishlife in this area is normally quite dramatic, including kingfish and grey nurse sharks.
After a very long dive (almost 60 minutes of fairly constant swimming), you return back to the dive boat over The Pinnacle. This is an excellent dive that has everything, fish, sharks, Australia's best ocean cave dive, coral, anemones, clownfish, crayfish, wobbegongs and normally crystal clear water. Although not really a circumnavigation of Fish Rock (you have only gone about 80% around it), it is pretty close but the "shortcut" through the cave makes it very special.
For more photos of grey nurse sharks at Fish Rock, go to the Fish Rock Grey Nurse Photo Page.
I can recommend the services of South West Rocks Dive Centre for this dive (they are the only ones I know who have done it). Remember, you must be a very experienced diver and very good on your air consumption. They can be contacted on (61 2 6566 6474, fax 6566 6959 or email).