Famous for being a little bit of France in the South Pacific, New Caledonia gained a reputation over the years for the arrogance and unfriendliness of the French residents. This reputation was well deserved and led to New Caledonia losing a lot of tourism. In my previous two visits to the capital Noumea, the attitude of the French (as opposed to the Kanaks) was, in my considered opinion, not just cold, but quite hostile.

Bernard Andreani, one of the four partners of Amadee Island Diving, met us at the hotel and transported us in his minibus to the Club Med Wharf only a few minutes away. Here we joined his 11 metre Australian built Cougar Cat, Spanish Dancer, for the 40 minute trip to Amadee Island. Capable of carrying 18 divers, the Spanish Dancer gets along at 20 knots and is very comfortable.

Amadee Island and its lighthouse
Amadee Island is located at the start of the Havannah-Boulari Passage, a scenic short cut for cruise ships travelling to Vanuatu. The first part of the name of the passage obviously comes from HMS Havannah skippered by Captain John Erskine which passed though the passage in 1849 on its way to Efate in Vanuatu. I am not sure where the second part of the name comes from.
Only 200 metres by 400 metres in size, the island is famous for its metal lighthouse which was manufactured in Paris in 1862. The foundation stone was laid on 18 January 1865 and the light first shone on 15 November 1865. Bernard's dive shop is on the island near the lighthouse. Once you arrive at the island, you gear up on the wharf before transferring to the 6 metre rubber ducky for a 10 minute run to the outside of the famous Barrier Reef. See La Dieppoise for an article about our other dive here.
| | |
| --- | --- |
| | |
| The spiral starcase inside the Amadee Island Lighthouse | The Amadee Island Lighthouse light |
One dive here is Boulari Pass. A drift dive, we enter the water and drop to 21 metres on the side of the gently sloping reef. The coral is quite nice, but the main attraction is some very big fish, including a lot of barracuda. Soon a few reef sharks start poking around. We swim along with the slight current. Bernard beckons us to lie down as he moves to the end of a ridge. As he shakes some bread loose from a plastic bag, huge numbers of large fish come from everywhere. All of a sudden, the four sharks around us become a dozen as they rip into the bread. The sharks are moving very quickly but are not exhibiting the signs of a frenzy. Bernard repeats the feeding and it is on again. Very spectacular and quite exciting, even for those of us who have been in feeding frenzies.
| | |
| --- | --- |
| | |
| Five or six of the seven manta rays I saw | A closer up photo of three mantas |
We continue on, entering the pass where the depth comes up to about 15 metres. All of a sudden I see the other divers up ahead reacting wildly. I swim as fast as I can and then there they are, manta rays, coming right at me. At first I only see one but then a formation of five comes to me. I start taking photos and they peel off to my left. I follow but they soon outpace me. Back to my right I see two more and they come close enough to let me get a photo.
On we go, eager to see more mantas. Suddenly, back comes a single ray, bigger than the others. I snap a couple of shots before it quickly changes direction. As fast as I can, I try to follow but I am just wasting air. I watch as the manta follows a fellow diver, only metres behind his head. All the time he is unaware that he is being tailed by this majestic fish, that great photograph only a matter of looking back behind him. For what must be one minute, the manta follows him before suddenly taking off at right-angles into deeper water.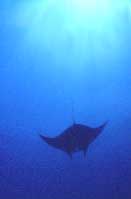 One of the seven
manta rays I saw

Our air is beginning to get low, especially those of us who have chased the mantas. Some leave the water and the last of us are just starting our safety stop when two mantas come in at 10 metres below us. Back down we go for those last few photographs, I eventually leave the water after one of my best ever dives, finally seeing manta rays after 650 dives. .

The surface interval is spent on Amadee Island where we have a huge meal, a swim and a walk around the island before our next dive.

The water temperature in October was 23°C and I was comfortable in a short 3mm suit, but most people would probably prefer a full 3mm suit. Visibility on the first dive was 20 metres plus and 10 metres on the second. The water temperature varies from 21°C in late winter to 27°C in late summer.

Michael McFadyen travelled to New Caledonia courtesy of Dive Adventures, Destination New Caledonie and Air Caledonie International. He dived in Noumea courtesy of Amadee Island Diving. Dive Adventures can be contacted on 61 2 9299 4633.